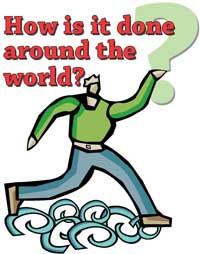 Ranger Kidwell-Ross, the Editor of WorldSweeper.com, in 2001-2004 completed intrepid trips to Asia, Australia, and Europe to bring us news of how pavement sweeping is done in some of the countries around the world. The Asia portion of this travelogue won an APEX Award of Excellence in Online Journalism for 2002.

| | |
| --- | --- |
| | This online series of stories about European sweeping won a 2004 APEX Grand Award for Writing from Communications Concepts. In 2004, only 100 Grand Awards were presented from the over 5,500 entries received. |
Table of Contents for
Sweeping Around the World -- Europe
(Go to Sweeping Around the World -- Asia)
Ranger Kidwell-Ross' Journey to Discover Sweeping Methods Around the World Continues in Europe

The nonstop flight to London from Seattle

APSE, the Association for Public Service Excellence trade show in Aviemore, Scotland

Hako Citymaster 300: by Hako, in Hamburg, Germany. The Citymaster was designed to compete in the class between the 4-ton sweepers and the walk-behind sweepers.

Choosing a Sweeper in Scotland and England: an interview with council members.

Scotland's National Waste Strategy: Priorities and outcome.

Southampton: how they handle street cleanup: challenges, equipment, and getting the job done.

Southampton involves equipment operators in its investigative process.

Sweeping in the U.K.: Past, present, and prediction for the future.

A quick stop in Hamburg, Germany

An introduction to Copenhagen

Keeping Copenhagen swept and clean

An introduction to Amsterdam

Amsterdam's sweeping techniques

An American sweeping contractor critiques Amsterdam's sweeping program

The sweeping challenges of Paris' municipal strike

Municipal workers strike demonstration at Lille

On the road to Bordeaux; a lesson in recycling

Critique of a sweeper in Bordeaux

Cleaning Évora, ancient walled city of Portugal

The farmers of Switzerland have invented a new kind of 'mountain sweeper'

Germany's 'romantic capital,' Heidelberg, emphasizes ongoing public education -- and frequent cleaning -- to keep its historic city clean for an estimated 3 million visitors a year.

Germany's Hako-Werke GmbH are the makers of the Hako line of power sweepers. Come along on a factory tour and learn why Hako has become the #1 brand of inner city sweepers in Germany.

Sidebars:

Ranger's Personal Reflections

An amusing (but sort of painful) sweeper story.

The game of Spoof.

Dining well at Buckland Manor.

What to do when a "disabled parking space" suddenly appears around your car.

Recycling Cartoon in Évora, Portugal.

A "Bone Us" story from historic Sao Francisco church in Evora, Portugal.
Also online are world sweeping travelogues from Asia and Australia.