Between Denmark and Amsterdam
by Ranger Kidwell-Ross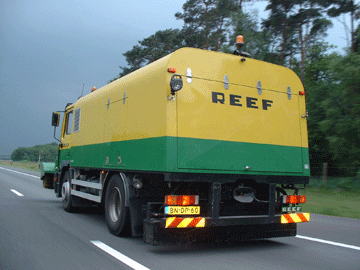 Throughout our travels, I've kept an eye out for sweepers, either parked or in action. Here's one we saw on the highway between Denmark and Holland. This picture was taken in Holland, a few dozen kilometers north of Amsterdam.
In the meantime, however, we saw many beautiful sights in Denmark. (As I write this introduction to Amsterdam, I am actually about to leave Spain and head for Portugal.) To date, I must say, Denmark has been my favorite country so far.
In retrospect, the tourism litter challenges faced by Amsterdam and Copenhagen are very similar. In my estimate, they have approximately the same number of tourists, and nearly the same amount of road miles to service. The huge difference is how littering and environmental issues appear to be perceived by the people of each country.
Denmark is well known as a world leader in environmental and social issues, which was clearly obvious throughout my visit there. As I detailed in the Copenhagen introduction, during my first 3 hours of driving in the country, I didn't see a single piece of litter alongside the highway. Unbelievable sounding, perhaps, yet absolutely true.
By contrast, Holland's roadside looked like most any other 1st world country, similar to the U.S., as an example. There was the 'usual' amount of roadside debris scattered along the roadways. In Amsterdam itself, however, things were substantially worse. Leela's surmise is that this may be a result of Amsterdam's liberal immigration policy, which has swelled the city's population in recent years. Many of these people are from Middle Eastern countries, where the adverse impact of littering is not a well-developed concept.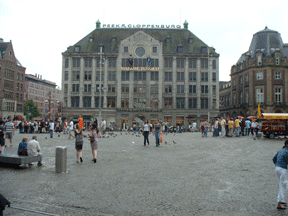 In any event, while in Amsterdam, I saw many more people actively littering the streets than I did during the time I was in Copenhagen. No matter what it was, from the usual cigarette butts to ice cream wrappers to whatever else happened to be in someone's hands, chances are it got thrown straight to the ground. If Amsterdam is truly interested in changing the obvious problem it has with presenting a clean face to the world, my suggestion would be to look to its northern neighbor, Copenhagen, for assistance with education programs and other ways to showcase the beauty that Amsterdam clearly has to offer.
Here are some photos taken somewhere between leaving Copenhagen, picking up Leela from her seminar, and arriving in Amsterdam. I hope they reveal the extreme lengths I'm willing to go, in order to bring you stories of sweeping around the world!
---