Hamburg
by Ranger Kidwell-Ross
What was it like growing up in Liverpool, a reporter once asked John Lennon. "I didn't grow up in Liverpool," Lennon replied. "I grew up in Hamburg."
My first visit to Germany was to include a brief stopover in the City of Hamburg. Initially, my plans were to fly from England on a Tuesday afternoon, pick up a rental car, and immediately drive to the airport to pick up Leela, a friend of 20+ years, who will be my traveling companion for much of the rest of the trip. We would then drive 8+ hours in order for me to be able to keep my Wednesday morning appointment with city officials in Copenhagen, Denmark.
However, due to a Monday holiday in England, one of my scheduled municipal interviews had fallen through. And, while at the Aviemore trade show, I'd learned the Hako sweeper factory was located in Hamburg. A phone call and a few emails later, arrangements had been made for me to arrive a day early for a Monday afternoon tour of the Hako facility.
I have to digress a moment to tell the story of what, for me, was a revelation about the world's current state of communication technology. While using Malcolm's English cell phone as we traveled down a Scottish highway, I called the Hako factory in Hamburg and asked to speak to the contact person whose name I'd been given by their Scottish distributor. In order to establish credibility, I thought I might send them to the AmericanSweeper.com website. I asked if they had Internet access, and they did. So, in less than a minute after answering the phone, the initially skeptical person on the line said, as I continued to try to explain what I was up to, "I am right now looking at the picture of you sweeping the Great Wall of China." Credibility established; appointment made.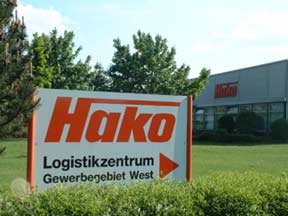 The Hako factory is actually located about 20 kilometers from Hamburg and, since I wouldn't get my rental car until the next day, the good folks at Hako offered to have a taxi come pick me up. This would be my first time, ever, to arrive at a foreign airport looking for someone holding up a sign for me!
It would have been more fun, however, if my suitcase had arrived with me. As it turned out, I had to convince a customs' agent to let me go find the person who was waiting for me before having to stand in a long line in order to fill out the necessary lost-luggage form. Spotting the guy with the Hako sign was easy. But, since he spoke no English and I no German, it was more difficult to communicate what the problem was. Fortunately, he understood, and was still waiting for me when I got back a half-hour later.
There are actually several Hako-owned factories scattered throughout the world. However, Hamburg is home to the company's world headquarters. Although very large, the company is still privately held, and the family members who are currently in charge of the firm, live in a house located on the factory grounds.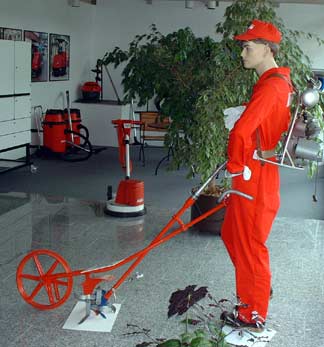 The Hako story is an interesting one, featuring a state-of-the-art sweeper manufacturing operation and a variety of sweepers you've probably never seen before. However, due to time logistics, we won't have it for you until our saga returns to Germany later in the trip. The reason is two-fold. I didn't take written notes during the introduction, because I was given a CD that contained the Hako company information. Unfortunately, it turned out to be a PC-only presentation that didn't work in my Mac computer.
Then, because there was so much to see at the factory, the taped session was quite long. Since it made sense to get the intro information prior to publishing the rest of the story online, I mailed the tape back to the States to get it transcribed. It turns out to take a remarkably long time for a small package to travel several thousand miles through the mail.
So, while you wait, here is a picture of the first product ever built by Hako, a cultivator, manufactured in 1924.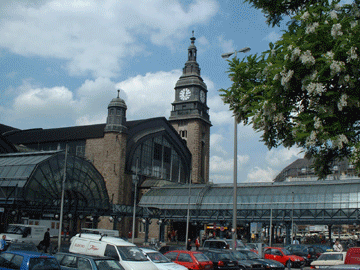 Since I had to go to the Hamburg train station to get the rental car, I used the opportunity to take pictures of the people who were cleaning around it. As best I could tell, the work was being done by a contractor with a work-crew, and a city cleaning team that happened to be passing through at the time. Whatever they were doing, it was working well, because the train station was the cleanest place I visited in Hamburg. Included on this page is a photo of one of the recycling containers that were scattered throughout the station.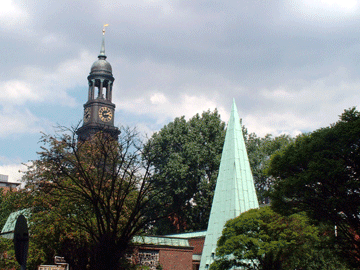 I also took a brief train ride to one of Hamburg's most popular tourism spots, the banks of the Elbe River. Here are several photos of that area, including one that shows the typical parking congestion seen throughout the city and most of continental Europe. Until I observed it in person, I simply couldn't imagine such incredible parking congestion on the narrow in-city roadways. Believe it or not, all the cars you see in the animation are parked! No wonder it's so difficult to actually clean an urban curb line in Europe.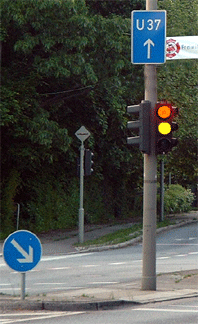 One of the things I've come to appreciate while driving in Europe is that the yellow light on the traffic signals comes on before the green light, as opposed to after it, as it does in the States. It allows both drivers and pedestrians to be better prepared for the light to change. It's a concept I think America should certainly adopt.
Next, we're headed for a visit with the agency responsible for cleaning the City of Copenhagen. If you'd first like to read more about the Beatles' early days in Hamburg here's a link to that story, which includes more information about the City of Hamburg itself.
---