Introduction to Copenhagen
by Ranger Kidwell-Ross

Prior to my scheduled interviews in Copenhagen, I accompanied my traveling companion, Leela, to her 4-day seminar destination, about an hour north of the city. My travels through Denmark, thus far, had consisted entirely of night-time driving. And, even though visibility at night isn't optimal, I'd begun to notice a distinct absence of litter along the highways. I decided to pay closer attention on the drive north from Copenhagen, to see if I could spot any litter in that part of the country. There was none, zip, zero, all the way to the north coast. After dropping Leela at her destination, and catching a few hours sleep, it was time to head back to Copenhagen.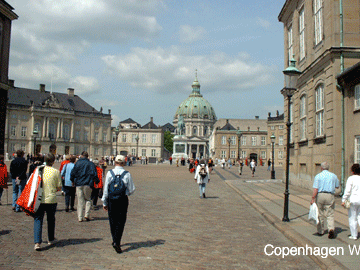 Throughout the drive south -- this time during daylight hours -- I again kept an eye out for highway litter. Yes, it's true I was traveling on predominantly rural, country-type roads. However, I was still amazed that the first piece of litter I saw in Denmark was located well within the city limits of Copenhagen. It looked to be a crushed pop can. By this time, I was wondering if Denmark even needed sweepers. But, once I got into the heavily trafficked, tourist-laden inner city, I would learn of the challenges faced by the City of Copenhagen's sweeping program.
Before we begin our overview of sweeping in Copenhagen, here are some photos of this beautiful, historic city, to give you a feel for the area and its architecture.
---