Ranger Kidwell-Ross' Journey to Discover Sweeping Methods Around the World Continues in Europe
by Ranger Kidwell-Ross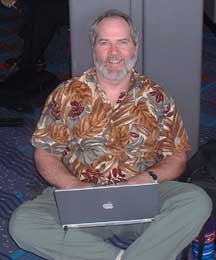 Here we go again! Last time, in 2001, our saga covered sweeping practices in Asia. This time, in 2003, our journey continues in Europe. For me, this trip marks my first visit to the land on the other side of the Atlantic.
I'm sitting on the carpeted floor of the Seattle-Tacoma International Airport, leaning against a roof-support column. My flight to London, our first stop for this European sweeping odyssey, is set to depart in a little over an hour. Since the British Air representative was unable to confirm whether or not I'd be able to plug in my laptop for the eight-and-a-half-hour flight, I'm sitting next to an electrical plug, instead of in one of the comfier seats. From my vantage point in the waiting area, I can see a number of other 'laptoppers,' scattered about doing the same thing. You'd think the airport management would have figured out that the electrical outlets need better seating nearby.
Interestingly, I found it somewhat easier to prepare for this second trip, although I actually had less advance preparation time. However, I still haven't mastered the art of packing light, as is advised by any number of travel writers. I've been told that the European business community, especially the British, insist on more formal attire if one is to be taken seriously. So, I've had to pack a little differently than I did before; I even included a sports coat and a couple of ties, the latter of which I haven't worn in the U.S. for over a decade.
When I arrive in London at noon (which translates to a sleepy, Pacific Northwest 4am), I'll be greeted by Malcolm Cameron of Schwarze Industries' U.K. office, my host for the first leg of the trip. During the Australia leg of my first world sweeping adventure, I had the pleasure of dining with Malcolm at a stopover in Brisbane. At the time, he was a big part of Schwarze's expansion into Australia. Now, Malcolm is leading the company's introductory sales effort in Britain.
Although I'm flying into Heathrow Airport, I won't be spending much time in London, itself. Malcolm and his wife, Wendy, make their home in a very rural area about a two-hour drive north of the city. From his description, it sounds as charming as can be. In fact, by way of preparation, he penned a wonderfully descriptive email to me last week, which I've put online to share with you. It definitely aroused my curiosity for meeting his neighbors. I wonder if they'll be surprised that my own upbringing included attending a one-room school through the 6th grade.
It's about time for the plane to start boarding, so off we go!
---