The Trip to Bordeaux
by Ranger Kidwell-Ross



We drove out of the mess that currently describes the city of Paris, without ever having seen a sweeper, either there or in Lille, site of the municipal workers' rally. After nearly a month of strikes, the character and cleanliness of France's major cities has definitely begun to deteriorate.

The next part of our itinerary had intentionally been left blank, with the intent of tailoring it to whatever sounded enjoyable prior to the upcoming interviews in Germany. Looking at the map and our trusty, tourist, travel guides, we considered a quick drive through Spain, then a ferry ride to Morocco for a few days. Unfortunately, the internet research Belinda provided us from our office in the states, uncovered a serious travel warning due to Moroccan terrorist bombings in May. U.S. Peace Corps personnel had been evacuated from Morocco, she told us, and unsettling predictions were being made with regard to the potential safety of Americans in that country.

We needed to locate an Internet Café in order to read the actual material she'd found online, so we headed to Bordeaux. To get to this classic French city, located within 200 km from France's border with Spain, we headed southwest on a small 'blue highway' in order to capture some memories of the beautiful wine country landscape.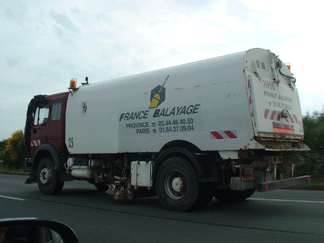 Finally, about 350 km south of Paris, on a main road toward Bordeaux, we came up behind a sweeper. Unfortunately, we could only maneuver into the outside lane for the picture you see here. After having dinner at Saintes, we settled in for the night at a quiet place between there and the village of Cognac.
At the quaint town of Blaye, located on the inland edge of a large bay in the Atlantique Ocean, we meandered along a coastal road that wound around the shoreline toward Bordeaux. It was just the ticket! In a very small seaside burg, named Bourg, we stopped to send a few packages via La Poste. Here, we discovered that any vestiges of a strike involving town cleanliness were invisible to the trained eye.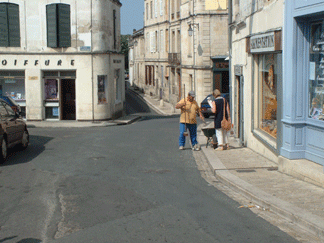 In fact, as we parked along the spotless brick main town road, I spied a man with a broom and wheelbarrow finishing up his morning sweeping of the streets of town. He cheerfully motioned that it was fine for us to take his picture. He obviously did his job with the quality espoused by Martin Luther King, Jr.: ''If a man is called to be a street sweeper, he should sweep streets even as Michelangelo painted, or Beethoven composed music or Shakespeare wrote poetry. He should sweep streets so well that all the hosts of heaven and earth will pause to say, here lived a great street sweeper who did his job well.'' In any event, it appeared the townspeople and tourists in the area must support the beauty of Bourg, because the entire town was virtually spotless.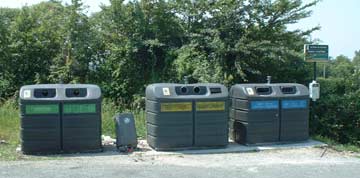 Alongside the road, only a few miles south of Bourg, was one of the recycling centers we had seen from a distance, scattered throughout the countryside of France. I decided that the unusual-looking plastic containers might provide some story material, since many readers have had experience with this type of program.
I've always believed that offering rural recycling is a great way to encourage the neighboring townspeople to be more active in their recycling efforts. Unfortunately, in this case (and there's no way of knowing if this is customary or the result of the municipal employees' strike), the area surrounding the bins was heaped with mounds of trash.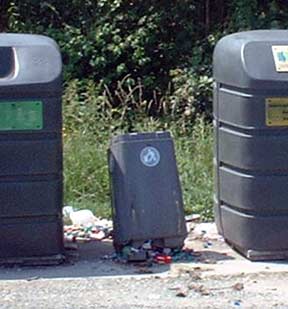 In the center, you can see a barrel that appears broken. It's a good idea gone awry. The plastic barrel is for bottle caps, since they won't recycle. It was about half full, but broken off toward the bottom. As a result, caps were strewn pretty much everywhere. And, all around the containers, people had thrown every type of household garbage. Although it's a great idea to provide recycling facilities, as everyone in the municipal sector should know, if such a project is in place it must be continually monitored for cleanliness and safety issues. When someone dumps trash around a recycling facility, unless it's immediately cleaned up, it encourages other people to dump their garbage there, as well.
I thought you might enjoy seeing their signage, indicating what should and shouldn't be deposited there. Alongside the bins, there was a concrete pad designed to drive onto, to keep people from having to park alongside the road while doing their recycling.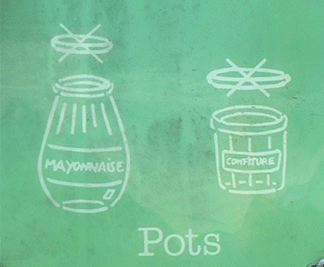 A few kilometers later, we entered Bordeaux. Alongside the road, in a construction area, was a sweeper. It was about midday, and there were a few people in the distance, eating lunch. One was David Passerieux, whose card appeared to indicate that he was a state inspector at Citeos. (citeos.com)
In halting English, David did his best to speak with us, however he knew only one item of import about the sweeper. No one else at the job site knew English and, being Portuguese, they weren't fluent in French, either. It was clear it would be fruitless to wait for the work crew to come back, and hope to conduct some kind of interview.
Still, I'd been trying to find an on-the-job sweeper in France for many days, and I wasn't willing to give up. Walking around this particular sweeper, I observed what happens to every sweeper that isn't benefitting from a regular maintenance program. With that in mind, our next story will be about the importance of sweeper upkeep. We all need periodic reminders about the importance of this topic and, from my perspective, it's much better to perform a critical analysis on a sweeper that's located thousands of miles from home, rather than one located in my own backyard that might be owned by someone I know.
So, next, we'll look at a sweeper apparently owned by a contractor located in the Bordeaux area. In this case, it was amazing what could be divined about the sweeper's ongoing maintenance by a simple walk-around inspection. After you read about it, I hope you'll be inspired to go take a more critical look at the machines in your own sweeper fleet.
---