Welcome to WorldSweeper.com!
Note that all links in this center section open into a new window.
---

Here's the latest in sweeping news from our Editor:

As is reflected in our new masthead, above, last June 21st marked WorldSweeper's 12-year anniversary!
It's time to remind everyone of the guidelines for conducting appropriate holiday office parties.
Our November e-newsletter has been sent. If you didn't get your free copy delivered to your inbox, sign up at our Guestbook.
Craig Crissman, owner of Shenandoah Supervac has over two decades of experience as a diesel mechanic. That's what led him to doing a test with his Schwarze Gale Force to see if he could maximize the longevity of the DPF system. What you read may surprise you.
Richard Scott spent nearly 40 years repairing sweepers and other equipment at the Highway Division of the Northampton, Massachusetts, Department of Public Works. In this article Scott is remembered by Northampton's management team and provides some advice for keeping Elgin mechanical broom sweepers in top operational condition.
Roots Multiclean, a sweeper manufacturer based in Coimbatore, India, has purchased Victory Sweepers. Roots' company management has also reported that it recently won a tender to supply nine high-speed runway sweepers to the Royal Thai Airforce (RTAF).
When it comes to NASCAR there's only one vehicle that is featured at every race: That's the Elgin Track Sweeper. A recent segment of 'NASCAR Jobs' featured the Track Sweeper.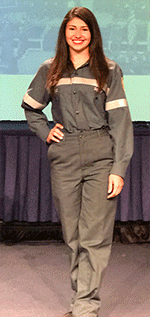 Beauty pageant veteran Nicole Doz – the first runner-up for Miss Staten Island 2017 – says that getting to her new title of street sweeper operator was even more grueling than going through talent, interview and swimsuit contests.
A UK engineering company is partnering with Johnston Sweepers to develop an autonomous electric street sweeper that will offer 90 percent utilization.
Next time one of your sweeper operators complains about their job, we suggest to show them the dangers of being a sweeper in Jamaica, where most of the sweeping is done manually amidst drivers that a U.S. contractor calls "maniacs." Is one of your operator's problems that they might have to "jump into the nearby crocodile-infested swamp"?!
I recently conducted an audio interview with a representative of the new owners of the National Pavement Expo, Emerald Expositions. We invite you to read about it and/or listen to the audio interview.
Schwarze Industries, Inc. has announced the development of its new HyperVAC pure vacuum sweeper. According to the company, its HyperVAC will offer a "revolutionary material transfer system that will improve sweeping quality and a new three-fold dust-laden air separator system that reduces the release of contaminants from the exhaust typically seen in previous vacuum sweepers."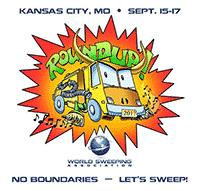 Whether you were there or not, you'll want to check out coverage of the World Sweeping Association's 2017 Sweeper Roundup,TM – America's first-ever manufacturer-independent power sweeping conference and tradeshow, which was held in Kansas City, MO, the middle weekend of September.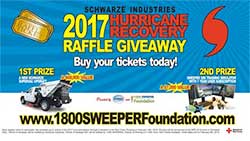 Schwarze Industries is partnering with 1-800-SWEEPER in a raffle to benefit hurricane relief. The grand prize is a Schwarze Updraft! Check it out and help those needing assistance from the recent hurricanes.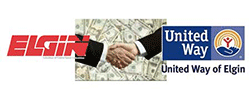 Elgin Sweeper has been named the 2017 recipient of the 'Jack Shales Spirit of Community Award' by United Way of Elgin. In the last 10 years alone, Elgin's employee and corporate gifts have totaled more than $750,000.
After receiving a mess of street sweeping tickets – at $49 a pop – Berkeley resident Michael Kurrels had had enough. To solve his dilemma, Kurrels developed "Don't Fear the Sweeper," an app that sends texts reminding residents to move their cars before street sweeping.
NiteHawk Sweepers asked us to remind everyone that the U.S. tax code still allows your business to depreciate up to $500,000 in capital equipment purchased and received in 2017. Click here to learn more about what may be a very important way you can add to your bottom line in the 2017 fiscal year.
A cheaper, cleaner biofuel may soon be gleaned from, of all places, sweeper waste! Check out how the University of Illinois' Prairie Research Institute is examining the use of a processing catalyst made from palladium metal – perhaps gleaned from street sweeper waste – and bacteria.
The World Sweeping Association has announced the winners of its Carl J. Austin and Dale McCaskill, Sr. Memorial Scholarships.
Are you ready for implementation of OSHA's Silica Dust Rule, which started on September 23rd for construction work by companies with 10 or more employees?
We have added an extensive profile of new parking area sweeper manufacturer, Well Made Manufacturing. The company's first entrant into the market is its 2.9 cu. yd. 'Twister Alley F1,' mounted onto a Dodge ProMaster chassis. Read the interview of the company's president, Wells Ledger, conducted by WorldSweeper's editor.
The City of Los Angeles is developing a pilot program to notify residents when the sweeper has passed their address. The intent is to reduce the number of parking citations issued for street sweeping.
Sweep before you scrub, buy equipment that's easy to use, and strive for three Michelin stars when developing a strategy to keep your warehouse and DC floors clean and clear of debris. If you clean indoor facilities you'll definitely want to read 'Best Practices: Warehouse Floor Maintenance 101.'
Two recent articles tout the advantages of power sweeping for reducing stormwater pollution runoff. One, by four members of Schwarze Industries' management team, called 'Runoff Pollution Prevention,' appears in Storm Water Solutions. The other, written by WorldSweeper's editor, is entitled 'Power Sweeping Contractors: Leading in the Defense of Clean Water,' appeared in PAVEMENT Magazine.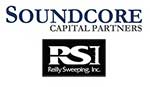 SCA Sweeping Corporation of America ("SCA"), a Soundcore Capital Partners ("SCP") portfolio company, has acquired Fairless Hills, PA-based Reilly Sweeping, Inc. ("RSI"). This combination forms the largest self-performing power sweeping company in the United States.
Check out our latest exclusive advance preview of the next issue of SweeperMarket/PaverMarket, posted on August 1st. Our monthly online preview provides our readers with at least a full week's headstart on those who won't see the ads until the magazine arrives by mail.
The management of Global Environmental Products has announced it is offering the first hybrid (diesel/electric) purpose-built sweeper configuration in the sweeping industry. The model, which is an adaptation of its M4 mechanical broom sweeper model, is called the M4Hybrid.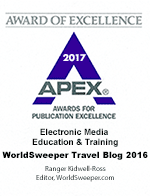 Our Australia/India blog about power sweeping in Australia and India has won a prestigious APEX Award for Publication excellence! Click on the logo to learn more.

Our sister organization, the World Sweeping Association, also received an APEX for the third year in a row for the value of the information provided in its twice-monthly WSA Member Update. If you are a contractor and are not yet a member of WSA you're definitely missing out on a cost-effective way to improve your business.

Victory Sweepers, Inc. has applied for Chapter 11 bankruptcy protection. According to Victory's president, the company's management team felt that a Chapter 11 filing was "an opportunity to reorganize so as to better facilitate a pending sale, allowing Victory the best opportunity for debt repayment and market timing going forward." We have further info available at this link.

Elgin Sweeper has announced the fifth-grade winners of a contest for the design of an environmentally-themed wrap for an Elgin Pelican street sweeper purchased by the Unified Government of Wyandotte County/Kansas City.

Our current feature interview is with Steve Young, who was a fixture in the power sweeping industry for nearly 30 years. Steve started as a sweeping contractor, then worked as a salesperson for Schwarze Industries before founding Sweeper Parts Online prior to his retirement.

Elgin Sweeper has announced the fifth-grade winners of a contest for the design of an environmentally-themed wrap for an Elgin Pelican street sweeper purchased by the Unified Government of Wyandotte County/Kansas City.

Stewart-Amos Sweeper Company has announced an updated website, complete with many new features. Here is where to learn all about it.
Contractors: If you are presented with contracts with wording regarding 'omissions' then you need to read this article.
Soundcore Capital Partners, LLC ("Soundcore"), a New York-based private equity firm, has announced completion of several acquisitions in the power sweeping industry, including Sweeping Corporation of America, the largest sweeping company in the U.S. Southeast.
Did you see our first of April story about Kangaroos that have been trained to pick up litter?

Elgin Sweepers reports its single engine Broom Bear mechanical sweeper is now available on the very maneuverable Autocar cabover chassis.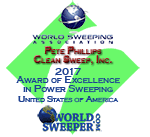 We are pleased to announce the WorldSweeper/World Sweeping Association's winner of the 2017 Award of Excellence in Power Sweeping, which is the sweeping industry's highest honor. The Award was presented to Pete Phillips and his company, Clean Sweep, Inc., at the recent National Pavement Exposition in Nashville, Tennessee.
We offer nine videos, a 58-photo slideshow and much more with our coverage of this year's National Pavement Exposition.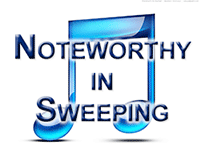 We congratulate Girl Scout, Kasey Tarnow, on her public awareness campaign, "My Street, My Ocean," targeting streets that don't have street-sweeping signs. Her hometown of San Clemente, CA, doesn't ticket parked vehicles blocking the sweeper on those streets.
We invite you to check out what I said in my interview for PAVEMENT magazine about the challenges I see for the sweeping industry in 2017.
Sweeper aficionado, McKinley "Kenny" Page, recently was the subject of an 18-minute video about his life-long fascination with street sweepers; most specifically, Elgin's classic Street King.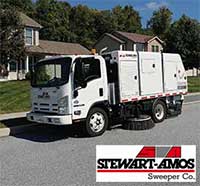 Stewart-Amos has introduced a new model in its mechanical broom line, the Starfire S-4c. Value-added enhancements of this update of Stewart-Amos' Starfire S-4 include 11' variable dump height, 16'-9" turning radius, 33% greater hopper lift capacity, and road- or curb-side hopper dump.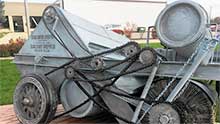 Elgin Sweeper's dealer network got together to make a reproduction of the company's very first sweeper, built 100 years ago. You'll want to take a look.
The World Sweeping Association is offering to the industry a WSA Featured Podcast that was conducted between 'The Sweepin' Preacher, American Sweeping's Gale Holsman, and an anonymous sweeping contractor who needed help in getting profitable. The approximately 1-hour podcast, which includes an article edited from the podcast, is a must for any sweeping contractor that wants to get a better handle on expense and revenue info in their company.
The TYMCO organization reminds they will be offering a total of 31 service schools in 2017. These are free of cost for owners and their representatives. Here are the details.
OSHA's upcoming Respirable Crystalline Silica Rule appears certain to affect the power sweeping industry significantly.
Nilfisk has partnered with Carnegie Robotics to bring more intelligence to cleaning machines. The group has announced a technology and innovation roadmap that includes the creation of robotic cleaners. Is autonomous parking area and/or street sweeping technology in our near future?
AC Business Media has announced that Emerald Expositions will be the new owner of National Pavement Expo.

Have you read the India-based conclusion of our editor's APEX Award-winning 2016 Australia/India Sweeping Odyssey? If you haven't yet read any of it, we suggest you start with my trip 'down under' with the extensive coverage of sweeper and related equipment that was at Civenex 2016, Australia's premier tradeshow, as well as nine more articles that showcase the Australian sweeping industry. If you've already read that part, use this link to get started on your 'sweeping trip to India!'
A front debris hose option is now available for Elgin's waterless Pelican® sweeper.
The World Sweeping Association has announced the winners of its 4th annual Carl J. Austin and Dale McCaskill, Sr. Memorial Scholarships.
In a sign the EPA may be getting more serious about stormwater violations, see the article 'Nevada DOT Hit With Stormwater Runoff Decree.'
The TYMCO organization is central to an overview of the history and effectiveness of street sweeping technology through the years. Compiled for the 16th Annual EPA Region 6 Stormwater Conference in Texas.
Remind yourself of the basics with our new 'Broom Sweeping 101' article.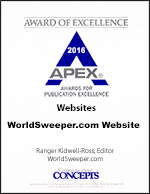 This WorldSweeper website has been awarded a 2016 national APEX Award for Publication Excellence for its overall quality and content. In addition, our sister organization, the World Sweeping Association, won a third consecutive APEX. WSA's Award this year was for the value provided to its sweeping contractor members in its bi-monthly e-Newsletter, the WSA Update. If you are a sweeping contractor but not a member of WSA, there's no better time to join!
Porous pavement is the gaining popularity very rapidly. WorldSweeper offers BMP information about keeping it clean and functioning well.
Have you seen the Minnesota Pollution Control Agency's BMP fact sheet for street sweeping? If not, perhaps you should take a look.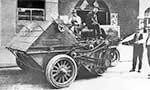 The Old Motor offers a number of photos of old street sweeping equipment, including this vintage Elgin machine to the right. Here is where you can see more.
Did you read our feature story on McKinley Page, perhaps the greatest U.S. fan of vintage street sweepers?
The winner of the WorldSweeper/World Sweeping Association's 2016 Award of Excellence in Power Sweeping is MASCO Sweepers. What is now the MASCO organization was co-founded in 1976 as Mr. Air Sweepers by Larry Dyck. The company is credited with two 'firsts' in the sweeping industry: The company began the first newsletter for sweeping contractors, NewsSweep, and founded the first sweeping association, the 'National Contract Sweepers' Institute.'
NiteHawk Sweepers was the first U.S. sweeper manufacturer to offer alternative-fueled parking area sweepers. Our feature article includes interviews with three U.S. contractors, all of whom are bullish on the LPG/gasoline sweeper technology; the facts about government tax credits for alternative fuel; the difference between a gallon of gasoline or diesel and LPG or CNG; and, an interview with the principal in the company that converts the chassis engines for NiteHawk.
John Meola, who is a frequent contributor to the WorldSweeper website and provides World Sweeping Association Members with a monthly bulletin on the topic of safety, recently offered a webinar showing how best to proceed for sustainable, long-term success in attaining a zero safety incidents culture in an organization. We now offer a link to Meola's on-demand webinar, as well as the webinar notes.
An article I wrote entitled "Sweeping Changes" was published in Public Works Magazine. In it, I provide information about the cost-effectiveness of sweeping when compared to the expense of other types of stormwater management 'end-of-the-pipe' techniques.
Based upon data that show initial street sweeping to cost between 4-and-10 times less than treating polluted water with conventional stormwater treatment, the City of Seattle is doubling its sweeping program. We offer an in-depth article as well as an @30-minute podcast with the program manager.
We have added a new section to the website entitled 'Noteworthy in Sweeping.' We will use this to tell the stories of individuals around the world who are making a difference in their area via sweeping. Our inspiration is an English schoolboy who's dedicated to keeping his community clean.
In its June issue, Stormwater Magazine published an article entitled "Clean Streets, Clean Cities," which conducts a review of how five U.S. cities are gaining the water quality benefits of street sweeping.
In two breaking news stories last April 1st, Schwarze Industries announced its new SuperVac Breeze model sweeper, and the consortium of Google and Dyson has announced the first-ever driverless street sweeper.
Did you know that the modified 'Gen 6' Elgin Crosswind sweeper is the ONLY vehicle that is scheduled to appear at all 38 NASCAR Cup Races this year? Our coverage includes an entertaining 42-minute audio podcast with Jeff Miles, manager of Key Equipment's Kansas City location, a driver for the Richard Petty Driving Experience and the lead in Elgin's NASCAR partnership. No sweeping industry racing fan will want to miss this one!
We now have on the site a well-researched document by Washington State's Pacific Northwest Pollution Prevention Resource Center (PPRC) on how the sweeping of paved surfaces can reduce stormwater pollution runoff.
Ever have a problem with drag shoes scraping newly sealed asphalt? If so, you'll want to read our article entitled "Ways to Eliminate Drag Shoe Scraping."
Where do you think they use sweepers with twin main brooms? One sweeps the street and the other transfers debris to the hopper. Owners believe the wear on the second broom is more cost-effective than dealing with conveyor belts. Read about it.
Have you wondered how to tell a prospect or client how they can tell a quality sweeping contractor? Check out the article I wrote for Retail Facility Business on this topic.
In a serious reminder to make sure your sweeper operators get enough sleep, don't get distracted while driving, etc., this link is to a fatal accident where a sweeper in New Jersey rear-ended another vehicle. Preach and teach safety, Safety, SAFETY!
Are you a Facebook Fan of WorldSweeper.com yet? Our Fans often receive advance notice of our newsletter, as well as a variety of industry tidbits not meriting an actual article.
If you're buying a sweeper or other capital equipment, be sure to use WorldSweeper.com's 'One Click' Finance Program. It's the easiest way we know of to get quotes from a number of lenders by filling out just one form. When vendors compete -- you win!
Finally, if you are a vendor to the sweeping industry and don't yet advertise here, please consider doing so with either a banner ad or a Sweeping Products listing.
As you can see from the logos above the headline, we have an RSS feed on the website, as well as links to our Twitter and Facebook accounts. These are easy ways to keep up with news at WorldSweeper.com. We also offer a web page that contains the latest articles we've added to the site.
Good Sweeping,



-- Ranger Kidwell-Ross, editor
First time here? Please read my introductory welcome message.
---
Take a look at our featured items below, or check out the complete contents of the site by choosing from the list to the left.
GUESTBOOK

If you haven't filled out our Guestbook, we can't send you late-breaking industry information. If you're involved with sweeping, please take time to provide us with your contact information.



PARKING AREA SWEEPERS

Here is our area dedicated to the needs of the parking area sweeping community. Check it out. You'll find a wide selection of news you can use in your business, right now, today.



DISCUSSION FORUM

Discuss industry topics with others in sweeping. Our discussion forums offer a variety of topics, or make up your own. Plus, we have buy/sell classifieds for sweeping and sweeping-related equipment. (opens in new window)



SWEEPER POSTCARDS



What better way to show you're part of the industry than by including a sweeper photo, drawing or cartoon in your email? Our online postcards are great to use as industry-related thank you notes, all occasion greeting cards and to show others what a sweeper looks like now or in the past. Choose from sweeper-related cartoons, drawings, photos and toys.



CONTRACTOR LOCATOR

Do you offer sweeping or related services, or would you like to hire a sweeping contractor? If so, you'll want to check out our contractor locator section. (opens in new window)



WHAT'S NEW

Here is where you'll find the latest stories we've posted online. You'll want to check often to find out the latest in industry news.



STREET SWEEPING

You'll find everything to do with street sweeping here. If that is the segment of the sweeping industry you are involved with, you'll want to check it out.



SWEEPER SLIDESHOWS

Want to see what sweepers used to be like? If so, you'll definitely want to check out our collection of old sweeper pictures. Some of the photos are even for sale, and what would look better on your office wall?!



SWEEPING PRODUCTS

Need to fix your sweeper, buy a new one or find the best deals and suppliers for sweeping-related products? As a way to show them you appreciate their support for this site, please do your shopping from manufacturers who support WorldSweeper.com. If you sell to the sweeping industry, be sure to sign up for your free or enhanced product listing! (opens in new window)



SWEEPING AROUND THE WORLD

Sweeping is a worldwide industry, but the techniques vary enormously depending upon where it's being done. We have a number of stories about how sweeping is done in various locations of the world, many from the award-winning online travelogues penned by our editor while traveling in Asia, Australia and Europe. You'll want to take a look.


---
FEATURED SWEEPING COMPANY
We're proud to offer this feature story on our home page.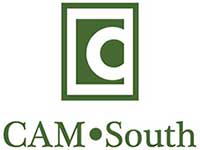 Prior to purchasing Alabama-based CAM South in 2014, Andy Coolidge had spent 20 years in the operations management of properties, including parking lots. Coolidge has remade CAM South into a fast-growing, full service provider of exterior property services, going from the 'one-and-a-half sweepers' included in the purchase agreement to an organization that deploys 30 people every day. That makes this is a rare opportunity for our contractor readers to hear what steps Coolidge took in order to have CAM South become so successful.
We typically change our featured story about once per month. If you'd like you or your organization to be considered for this honor, please let us know.