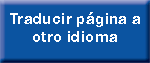 Quick Links
(All open in new window.)

Advertising Info

Awards

Browse Sweeping Products

Contact Us

Contractor Locator

Discussion Forum

Get Financing Quotes

Get Free Newsletters

Latest Industry News

Tips on Using This Site

Major Site Subsections

Indoor Sweeping

International Sweeping

Parking Area Sweeping

Street/Highway Sweeping

Main Topic Areas
(In alphabetical order.)

Airport Sweeping

Alternate Fuels Info

Choosing Equipment

Disposal

Employee Management

Environmental

Excellence Awards

Featured Contractors

Financing Tips

Fleet Management

Funny Business

Gear for Sweepers

History

Industry News

Legal

Manufacturer Profiles

Milling/Construction

Newsletter Archives

Noteworthy in Sweeping

Old Sweeper Slideshows

Operational Tips

Press

Preventive Maintenance

Resource Links

Reviews

Safety

Site Map

Tip Clipboard

Toys and Game Apps

Used Sweepers & Eqpt. (opens in new window)





World Sweeper
2778 Barrell Springs Road
Bow, WA 98227
Contact us via email
Phone: 360-739-7323
(9-5 Pacific)
Fax: 866-890-0912



Copyright ©2005 – 2021
WorldSweeper
All Rights Reserved.





Proud to be an
award-winning organization, every year since 2008!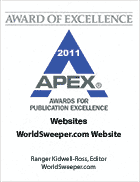 Welcome to WorldSweeper.com!
Note that all links in this center section open into a new window.
---

Here's the latest in sweeping news from our Editor:


It is with great pleasure that we report WorldSweeper's free monthly e-newsletter is the recipient of an international APEX Award for Publication Excellence. This marks the 8th year in a row that our newsletter has won an APEX and the 14th year in a row of the 15-year existence of the WorldSweeper.com website that some aspect of the overall project has won an APEX. Sign up here to receive our newsletter in your in-box each month.
Scroll down for the latest industry news:
Check out our latest exclusive advance preview of the next issue of SweeperMarket/PaverMarket, posted on January 29th. Remember: Our monthly online preview provides our readers with at least a full week's headstart on those who won't see the ads until the magazine arrives by mail!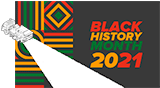 WorldSweeper's February e-newsletter has been distributed. Sign our guestbook to get on the reception list. Our 'Black History Month' issue included info about Charles Brooks, a Black man who was one of the first US inventors of a street sweeper.
We also had three Zoomcasts: an introduction to Bucher Municipal's 'Sweepers & Tankers' podcast; an interview featuring me discussing the extraordinary value of street sweeping for removal of Phosphorus and Nitrogen; and, an interview with 40+ year industry veteran, Mike Dyck.
Plus, check out what a night of street sweeping looks like in NYC and the story about how NJ's Somerset County has become the first in that state to offer a sweeper sharing program between municipalities. featured the sweeper (and other resources) sharing story between municipalities going on in Somerset County, NJ.
Have you seen our 'welcome aboard' interview with the new Editors of PAVEMENT magazine?
Did you know that brushes manufacturer Keystone Plastics has added a manufacturing location in Georgia?
Check out this article and video on sweeping's value for the environment.
What do you think about my industry predictions for 2021?
Have you seen the latest review of battery-powered leaf blowers?
Check out our Zoomcast interview with the VP of RubiconSmartCity, a company increasing the cost-effectiveness of street sweeping, as well as another Zoomcast with the Street Sweeping Supervisor of Ft. Collins, CO, a Rubicon client.
We also offer a recent Zoomcast interview with the Editor of Stormwater magazine. It ties in with the latest on street sweeping methodology from myself and Roger Sutherland.
We love the heart-warming story about a group of kids in India who built their school's elderly custodian a 'grounds sweeper.'
Did you hear that Sweeping Corporation of America has been sold to Warburg Pincus?
Have you seen our report on the sweeping program for the world's longest floating bridge and our interview with Trombia's CEO on that company's first-ever autonomous electric sweeper?
The pavement-based pollutant removal ability of a wide variety of BMPs has shown street sweeping to be the most cost-effective of all by a significant margin. Check out the new comprehensive study that involved 14 Florida municipalities.
Our editor interviewed Rod Moore, general manager for 40+ year C&J Parking Lot Sweeping, about what accounted for the company's continuing success. What Rod has to say about the concept of providing outstanding customer service in this 17-minute video is food for thought for most any type of service business.
We also provide our survey results on COVID-19's impact on contractors; a 'Noteworthy in Sweeping' article about a Scottish contractor using his savings to help children during the pandemic lockdown; a final reminder about applying for WSA's Memorial Scholarships, and more. If you want to be on the mailing list for the newsletter, sign up here.
Ever wonder how to get onto Walmart's bid list for parking lot sweeping? An article in our March newsletter tells you how.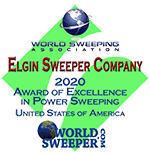 Elgin Sweeper Company was 2020's winner of the WorldSweeper/World Sweeping Association Award of Excellence in Power Sweeping, the power sweeping industry's highest honor. The Award was spurred by the extraordinary consultation with contractors Elgin did before introducing its new RegenX sweeper.

Have you listened to 'The Sweepers and Tankers Podcast,' hosted by Johnston Sweepers' Product Marketing Manager, Matt Starnes? The podcast deals with anything and everything in the street sweeping and sewer tanker world.

We've added our first-ever video to our Sweeping Tips area, which now contains 127 sweeping hints and tips. Check out the brief video of long-time contractor, Ray Confer, as he performs his annual ritual of customer service for his Detroit-area clients.

GPS is one of the best ways to monitor performance; here is an article telling how to get more 'operator buy-in' via turning GPS data into a positive experience via game-playing.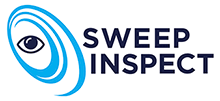 If you sweep parking lots you'll want to see the Sweep Inspect! app, designed by Jim Blackerby, owner of Louisville Pavement Sweep and a second-generation contractor. Work product oversight has never been made so easy and efficient.

After a cost assessment of implementing Chesapeake Bay requirements tallied up to more than $1 billion, the county sought a less expensive solution. A study on the costs of storm water management practices prepared for the Maryland Department of the Environment Science Services Administration found that air street sweepers provided the lowest average annual cost over 20 years per impervious acre treated.

WorldSweeper surveyed eight U.S. cities about their sweeping practices. The results may surprise you.

Did you know that over 40% of the tickets nationwide are for not moving vehicles prior to sweeping?

We now have on the WorldSweeper website an in-depth analysis of the City of San Jose, California's street sweeping program. The report – which is 72 pages in length – is entitled "Street Sweeping: Significant Investment and Re-tooling are Needed to Achieve Cleaner Streets." We highly recommend anyone involved with street sweeping read the report. Complete info is at this link.

Risk transfer clauses are becoming a regular part of mall and third party contracts. Every sweeping contractor needs to read this article that discusses how to recognize and defend against risk transfer clauses.

Next time one of your sweeper operators complains about their job, we suggest to show them the dangers of being a sweeper in Jamaica, where most of the sweeping is done manually amidst drivers that a U.S. contractor calls "maniacs." Is one of your operator's problems that they might have to "jump into the nearby crocodile-infested swamp"?!

Have you wondered how to tell a prospect or client how they can tell a quality sweeping contractor? Check out the article I wrote for Retail Facility Business on this topic.

Are you a Facebook Fan of WorldSweeper.com yet? Our Fans often receive advance notice of our newsletter, as well as a variety of industry tidbits not meriting an actual article.

Finally, if you are a vendor to the sweeping industry and don't yet advertise here, please consider doing so with either a banner ad or a Sweeping Products listing.

As you can see from the logos above the headline, we have an RSS feed on the website, as well as links to our Twitter and Facebook accounts. These are easy ways to keep up with news at WorldSweeper.com. We also offer a web page that contains the latest articles we've added to the site.

Good Sweeping,



-- Ranger Kidwell-Ross, editor
First time here? Please read my introductory welcome message.
---
Take a look at our featured items below, or check out the complete contents of the site by choosing from the list to the left.
GUESTBOOK

If you haven't filled out our Guestbook, we can't send you late-breaking industry information. If you're involved with sweeping, please take time to provide us with your contact information.



DISCUSSION FORUM

Discuss industry topics with others in sweeping. Our discussion forums offer a variety of topics, or make up your own. Plus, we have buy/sell classifieds for sweeping and sweeping-related equipment. (opens in new window)



CONTRACTOR LOCATOR

Do you offer sweeping or related services, or would you like to hire a sweeping contractor? If so, you'll want to check out our contractor locator section. (opens in new window)



SWEEPING AROUND THE WORLD

Sweeping is a worldwide industry, but the techniques vary enormously depending upon where it's being done. We have a number of stories about how sweeping is done in various locations of the world, many from the award-winning online travelogues penned by our editor while traveling in Asia, Australia and Europe. You'll want to take a look.



WHAT'S NEW

Here is where you'll find the latest stories we've posted online. You'll want to check often to find out the latest in industry news.



STREET SWEEPING

You'll find everything to do with street sweeping here. If that is the segment of the sweeping industry you are involved with, you'll want to check it out.



SWEEPER SLIDESHOWS

Want to see what sweepers used to be like? If so, you'll definitely want to check out our collection of old sweeper pictures. Some of the photos are even for sale, and what would look better on your office wall?!



SWEEPING PRODUCTS

Need to fix your sweeper, buy a new one or find the best deals and suppliers for sweeping-related products? As a way to show them you appreciate their support for this site, please do your shopping from manufacturers who support WorldSweeper.com. If you sell to the sweeping industry, be sure to sign up for your free or enhanced product listing! (opens in new window)


---
FEATURED SWEEPING ORGANIZATION
We're proud to offer this feature story on our home page.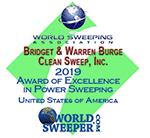 Our current featured contractor is Louisiana-based Clean Sweep, Inc., owned by Bridget and Warren Burge, who have been sweeping contractors since 1990. The couple are the 2019 winners of the WorldSweeper/World Sweeping Association's Award of Excellence in Power Sweeping.
The firm has since grown to where today the company owns and operates a fleet of 30 vehicles, 25 of which are sweepers. They are a major force in Louisiana sweeping and pavement maintenance, where they sweep warehouses, construction sites, city streets and, yes, still continue to sweep parking lots. In addition, they have become a 'one call does it' company for virtually any type of pavement and exterior maintenance, including infrared asphalt repair.
If you'd like you or your organization to be considered for this honor, please let us know.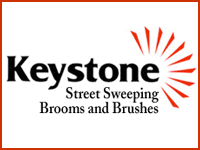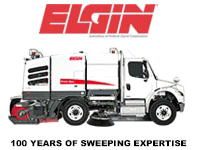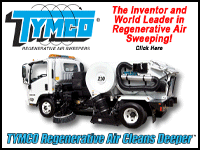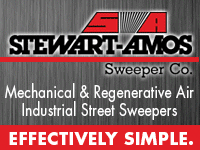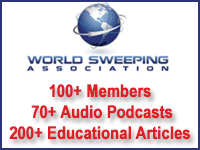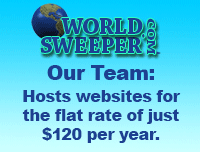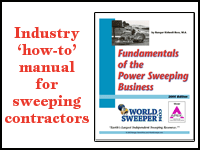 PLEASE SUPPORT WORLDSWEEPER.COM
This website relies on industry-wide support. The good news is the information we supply can be unquestionably independent. The downside is we must have the support of the sweeping community at large to keep WorldSweeper.com up-to-date and online.
Because of the relatively small size of the sweeping industry, we need financial support from all areas of sweeping: manufacturers, contractors and the other vendors and suppliers of power sweeping equipment. If you like what you see and value the site, please support it via the low cost enhanced listings in our Contractor Locator and Browse Sweeping Products sections.
If you would like to support the site through a donation of any amount, via either PayPal or a credit card, just click on the donation link shown below.
If you would like more information, or to provide your input and ideas on the World Sweeper concept, please contact us via one of the methods shown in the left column of this page. We're trying to represent all viewpoints in the sweeping industry, so please feel free to let us know yours.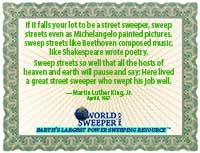 "If it falls your lot to be a street sweeper, sweep streets even as Michelangelo painted pictures, sweep streets like Beethoven composed music, like Shakespeare wrote poetry.
"Sweep streets so well that all the hosts of heaven and earth will pause and say: Here lived a great street sweeper who swept his job well."
-- Martin Luther King, Jr.
April 9, 1967
If you'd like an 8.5 x 11 copy of the certificate shown above, suitable for framing, click here or on the certificate image.