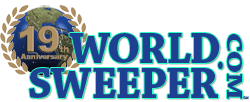 By filling out our Guestbook, we'll be able to contact you about industry issues, including the latest sweeping study results, helpful hints, proposed legislation, product specials, etc. You will be able to update your information using a link in any emailing you receive from us.
If you know of any news that might be of interest to those in the sweeping industry, or other information you'd like us to know, please tell us about it briefly in the 'message' section, below. Even though the box looks small, you can type as much as you want into it. We will contact you back by either phone or email.
Although we'd like to know more about you, only fields denoted with an asterisk are required.
Thanks again for your interest in the WorldSweeper.com website.