"Earth's Largest Power Sweeping Resource." SM
Your Internet Connection to Sweeping Professionals
Today, most people in power sweeping have connections to the Internet and are eager to get news they can use. WorldSweeper.com offers an extensive range of 'how to' and background articles on sweeping, and is the most comprehensive resource available to the sweeping industry. No matter what area of sweeping someone may be in – street and roadway, parking area, construction, milling debris – there's helpful information for them here.
The site debuted on June 21, 2005. As of November of 2005, the monthly visitor rate was in excess of 2000/month; by March of 2007 that had increased to around 3000-3500/month, the level at which traffic is currently stabilized. Best of all for advertisers, the visitors are virtually all involved in the power sweeping industry and in the market for the sweeping-related products.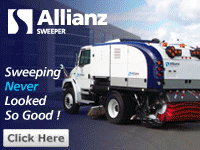 Banner Advertising is Available Throughout the Site
Banner ad pricing varies depending upon page location. All banner ads are positioned on the right side of the page, and need to measure 200 pixels wide by 150 pixels deep at 72 dpi, as shown to the right.
The ad rates for the various areas of the website are listed below. We are happy to help you develop your ad; ask about our design rates.
Ad rates for 2018 are shown below. Pricing is based on minimum 6-month contracts, with a 1-year rate guarantee for all continuous ads throughout that time. However, there are no cancellation penalties; you may cancel at any time. Ad rates shown are not commissionable. For shorter duration ads please contact us.
Accepted payment methods include business check, Paypal and credit card (via Paypal).
ADVERTISING ON WORLDSWEEPER.com
Tier 1 Ads:

WorldSweeper.com Opening/Home Page

Top-of-the-Page Ads:
$475 / month
Note: One top position is currently available.

Side-of-the-Page Ads:
$400 / month (top three positions; rotated monthly; none currently available)
$375 / month (lower positions; rotated monthly)

Tier 3 Ads:

All other one-click page links to Table of Contents pages from either the main home page or the Parking Contractor and Street Sweeping home pages.

Above links open to a new window.

1 ad: $100 / month

2 ad pages: $80 / month / ea.

3 or more ad pages: $70 / month / ea.
Tier 4 Ads:

Any individual story page.

1 ad: $50 / month

2 ad pages: $45 / month / ea.

3 or more ad pages: $35 / month / ea.
Broadcast Newsletter Emails:

We offer the sweeping industry a monthly e-newsletter, which contains a combination of feature stories and current news, to our email subscriber base of over 3,500.

Banner advertisements within the newsletter remain with that issue throughout its life on the site and are only $50 per issue.

$50 per banner ad in the newsletter
| | | |
| --- | --- | --- |
| Broadcast 'Advertising-Only' Emails: | You can email out to our list of subscribers who have indicated they would like to receive product information and advertisements. May be html or plain text with links to your website, etc. Current list is in excess of 3,500 contacts, roughly split evenly between sweeping contractors and municipal public works contacts. | $500 per E-mailout |
Individual Company Press Releases:

Industry press releases related power sweeping may be posted online at WorldSweeper.com. These must be approved by our editorial board, and must relate directly to the power sweeping industry.

$150 per press release (non-advertisers)
No charge to current home page banner advertisers
Vendor Product-Oriented White Papers:

Your company, or its products or services, may have been featured in articles published elsewhere. If so, you can have this information included on the WorldSweeper.com website by sponsoring the story's listing.

All White Paper articles must be reviewed prior to placement, and we reserve the right to reject any that the editorial staff feels are inappropriate. Articles will be retained on the site for a minimum of one year.
Each White Paper-submitted article will have the words "Sponsored for inclusion by (Name of Your Company)" placed tastefully at the top of the first page. You must include Reprint Permission in writing from any prior publisher.

$200 per article, plus the expense of having the article coded in html to fit WorldSweeper.com's 'look and feel.' If this latter amount is estimated to be more than $25, you will be contacted in advance for your authorization to proceed.

Current Product Photos in Slideshow and/or Email Postcards Section:

Your current models of sweepers, or sweeping-related products, may be included in both our Slideshow and Postcard sections.

Having pictures of your current product line in our Slideshow area is a great way to showcase your current products. Each photo can be linked to any page on your website. That way, if someone is interested in knowing more about a particular sweeper, with the click of a button they can be redirected to the website page for that model. Photos may be kept on the site for up to one year at no additional charge.

Likewise, including your products in our Postcard site lets anyone send a photo of that sweeper to someone in an email message. This is perfect as a thank you or follow-up message from your sales team, for contractors who use that model of sweeper, etc. Your sales team might even offer to customers that they will place a photo of their new sweeper on the site as a 'thank you perk' for their purchase.

In that event, the purchaser can send us a photo of his/her sweeper after the signage is on it, and use the Postcard site to send photo thank you notes to their own customers.

Cost is $75 per year per unique picture of a sweeper or other product in either the Slideshow or Postcard sections.

For complete information, or to place one or more advertisements, either send us an email or call 360-724-7355 between 9am and 5pm, Pacific Time Zone.