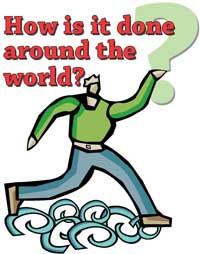 Ranger Kidwell-Ross, our webmaster and Editor of WorldSweeper.com, has made trips to Asia, Australia, India and Europe to provide news of how pavement sweeping is done in some of the countries around the world. The Asia portion of this travelogue won an APEX Award of Excellence in Online Journalism for 2002, while the European travelogue won an Apex Grand Award for 2004.
This WorldSweeper.com section on Nigeria has been developed via contacts located in that country.
Table of Contents
posted in March 2018

Sweeping Against the Odds: The Women Street Sweepers of Lagos
This article is being provided to showcase the plight of many in the international sweeping industry in celebration of International Women's Day. WorldSweeper is proud to celebrate these gritty Nigerian women in their occupation of sweeping despite the many challenges the job presents in Nigeria.

The names of the sweepers mentioned in the story have been changed to protect their identities. This story is told with support from Code For Africa. Article includes an embedded video that showcases the type of situations these brave sweeping industry workers face on a daily basis. Among them are elderly and young women, exposed to road hazards and rewarded with meager wages. Because of the extreme hardship these women face daily, this story has been catalogued in WorldSweeper's 'Noteworthy in Sweeping' category. Read the story.