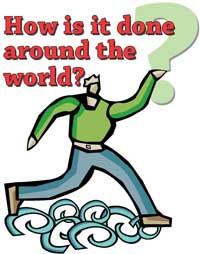 Ranger Kidwell-Ross, our webmaster and Editor of WorldSweeper.com, has made trips to Asia, Australia and Europe to provide news of how pavement sweeping is done in some of the countries around the world. The Asia portion of this travelogue won an APEX Award of Excellence in Online Journalism for 2002, while the European travelogue won an Apex Grand Award for 2004.
This WorldSweeper.com section on Canada has been developed via contacts located in that country.
Table of Contents
posted in March 2010
The City of Vancouver's Gold Medal Job of Sweeping at the 2010 Olympics
When it came to keeping the area in and around the 2010 Olympics sparkling clean, the buck stopped with Jim Heeps, Superintendent of Street Cleaning for the City of Vancouver, and Dennis Cole, Acting Superintendent of Daytime Sweeping.

Due to a planning routine that started when Vancouver was first chosen for the 2010 Olympics, Vancouver's street cleaning team clearly stood atop the podium with its world-class effort during the Olympics. Includes a 15-minute audio interview with Heeps and Cole. Read the story.
---
posted in February 2010
A Combination of Power Sweeping and Water Flushing Spells Success for Canadian Contractor
This article is an overview of Canadian sweeping contractor, Tim Kukovica. Kukovica started out as a farmer in Canada's Ontario province, just north of Niagara Falls, New York. How could he know when he bought a municipal water truck at auction for its transmission that the purchase would change the course of his business life.

Now, 15 years later, the company offers a wide array of sweeping services in addition to water flushing and more. Read the story.