Street & Municipal Sweeping
Best Practices
Forms
Legal
Operations
Profiles
Studies
We appreciate any suggestions you might have for this section.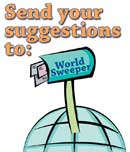 Click on the graphic above for an email window.
Table of Contents
Wilmington, Delaware, Launches Daily Employment Street Cleaning Program
Wilmington Mayor Mike Purzycki has announced a new daily employment program for residents focused on cleaning city streets and neighborhoods. Says Mayor Purzycki, the newest component of Wilmington's "Beautiful City Initiative" attempts to solve two problems at once, by giving under-employed city residents work, and cleaning up neighborhoods throughout the city. Read the story.
Sweeper Sharing Can Help Maximize Resources
When the sweeper Sewickley Township had been leasing was no longer available, nearby Unity Township agreed to lease its Johnston air sweeper to them for 30 days at the unbeatable rate of $1. Read the story.
Best Practices for Sweeper Location Notification
Those tasked with reducing storm water runoff pollution are in widespread agreement that moving parked vehicles on sweeping days is critical to obtaining the best results. However, political considerations that stem from citizens are still a major deterrant to forced vehicle moving in many locales.
The following story about the Town of Canmore offers information about how GPS may be utilized to assist outreach to citizens on the topic of sweeper-caused parking restrictions. Includes 13.5-minute audio podcast interview with Canmore's sweeping manager. Read and hear the story.
Organizing an Educational 'Touch A Sweeper' Event
Sweeper awareness events can do much to educate your community about the many reasons why street sweeping is an important service. This sort of event can be even more important if you're trying to instigate and/or maintain a parked car removal program as part of your sweeping service.
In the U.S., one of the best times to schedule this type of event is in conjunction with the APWA's National Public Works Week, typically held in mid-May. The linked story outlines what some different towns in the U.S. do. Most all are called 'Touch A Truck.' Read about these events.
The Essentials of Workzone Safety for Street Sweeping Operations
When it comes to roadway vehicle safety, there's probably no one in America more qualified to speak on the topic than John Meola, who is Safety Manager for Invincia Insurance. Hear what he has to say about work zone safety as it applies to highway- and construction site-based sweeping operations. Read and hear the story.
Survey Results: Street Sweeping Vehicle Posting Criteria
As a result of a request by an official at the City of Richmond, Virginia, we sponsored a survey on how cities handle parking restrictions on the days a sweeper will be going down a residential (or other) street. Since we could not find any data that existed on the topic, we designed a survey to document what other cities do in that regard. Unfortunately, few municipality representatives took the few minutes necessary to fill out the survey so we only are able to provide a small snapshot of information on the topic. Read and hear the story.
An Historical Perspective on Privatization
Bill Kappel, Public Works Director for Wauwatosa, Wisconsin, was one of APWA's Top Ten Public Works Officials for 2009. Our article with Kappel, based on his 2009 APWA Congress and Exposition presentation. Included is a 25-minute, in-depth audio exchange with WorldSweeper.com's editor, Ranger Kidwell-Ross, that discusses the pluses and minuses of privatizing an operation like street sweeping.

The information includes contemporary experiences and long-term trends in private, governmental, and mixed arrangements for the provision of public services and infrastructure. Read and hear the story.
Milling/Construction Sweeping
Our stories on milling and construction sweeping are located in a sub-section off the site's home page. Read the stories.
Cleaning Bicycle Lanes
With 153 centerline miles of bicycle lanes in the city, Portland, OR, has bicycle lane cleaning down to a science. Read the story.
L.A. County Sweeping Contractor Provides Private Sector Perspective
The head of L.A. County's Nationwide Environmental Services sweeping company discusses the public/private relationship when it comes to the provision of street sweeping services. Read the story.
An Alternative to Performance Bonds for Municipal Street Sweeping
This long-time street sweeping contractor has developed municipal bonding alternatives for street sweeping that create a win/win for all concerned. Read the story.
Roadway Sweeping and the Ministry of Land, Infrastructure and Transportation in Japan
Masatoshi Sakai is a member of Japan's 'lead agency' when it comes to roadway sweeping. He talks about how porous pavementis changing the face of sweeping in Japan. Read the story.
Anatomy of a Street Sweeper Rescue Effort
Because sweeper entrapments are rare, when they do occur they often task the efforts of rescue crews. Read the story.
Municipal Sweeping Equipment Costs
This list is designed to help you account for all the costs associated with purchase and operation of street sweepers. Read the story.
Determining the Cost of a Municipal Sweeping Program
In pricing municipal sweeping bids, even experienced contractors and municipal sweeping managers have been known to make mistakes. There are many factors to take into account, and in this article our editor discusses many of them. Read the story.
Lease Financing for Street Sweepers is for Municipalities, Too!
This equipment leasing specialist provides the lowdown on why sweeper leasing can be a good fit for municipalities and other public agencies. Read the story.
Municipal Street Sweeping: Which is Better, In-house or Contracted Out?
Four sweeping contractors discuss the pros and cons of public or private provision of street sweeping services. Includes comments on topic from former public works director. Read the story.
Choosing a Single Sweeper
If you're a big city, you can probably afford to buy a sweeper for one purpose only. However, when you're small you have to buy one that can do everything, including leaves. If that's you, here's what you should consider. Read the story.
Should Municipal Sweeping Services Be Contracted to Private Sweeping Contractors?
Privatizing your municipal street sweeping operation can be highly cost-effective. Read the story.
Sweeping in L.A. County -- Force Account or Private?
L.A. County Program Manager, Mark Caddick, discusses the merits of force account sweeping versus the use of private contractors. Read the story.
Tourist destination, Nashville, Indiana, has cleaner streets because of the volunteer efforts of the local Lions Club.
Getting Public Works Competitive With the Private Sector
This advice on ways to get and stay competitive is helpful to both public and private sector sweeping organizations. Read the story.