Street & Municipal Sweeping
Best Practices
Forms
Legal
Manufacturer Info
Operations
Profiles
Studies
We appreciate any suggestions you might have for this section.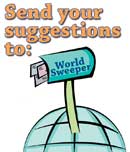 Click on the graphic above for an email window.
Table of Contents
North American Management completes acquisition of Johnston Sweepers USA and MADVAC Inc.
On May 13, 2005, Gabriel Charky, founder of MADVAC municipal vehicles, re-acquired MADVAC along with Johnston Sweepers USA. Johnston Sweeper Company and Madvac have become privately held and now the firms now are a majority management-owned company backed by the Solidarity Fund QFL (FSTQ). Read the story.