Elgin's VP & GM, Mike Higgins, Retires After a 30+ Year Career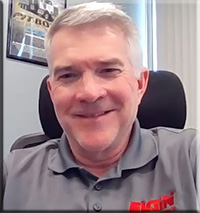 Mike Higgins started with Elgin Sweeper as an engineer in 1987. In 2023 he retired as the company's General Manager. We offer an hour-long podcast reminiscence about the industry between Higgins and WorldSweeper's Editor, Ranger Kidwell-Ross. Check out the podcast.
---
Industry Pros Predict the Future of Sweeping

At the 2018 National Pavement Expo WorldSweeper's editor asked a total of 18 industry professionals to provide their prediction, on video, about where the sweeping industry is headed. These were compiled into 6 videos, each of which shared three predictions. These are online in this area of the WorldSweeper website. Check out the predictions.
---
Sweepers of the Future, Circa 2019
With nearly 2,500 registrations and artists from 110 countries, the NVIDIA Metropia 2042 Challenge brought creators together to visualize a futuristic world surrounded by cutting-edge technology. Second place in the 'Vehicles of the Future' category went to UK prop artist Joe Seabuhr's rendition "Sweepers of the Future." Check out the artists vision.
---
Vintage Sweeper Brochures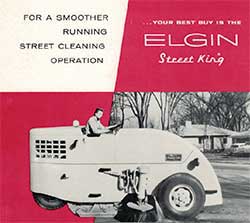 We offer introductory information on an ever-increasing number of vintage sweeper models, as well as a PDF scan of their brochure and/or specifications handout via the link below; many thanks to McKinley "Kenny" Page for providing many of the originals. (If you have old brochures in your collection that we might add scans of for this section please let us know. Check out the brochures and spec sheets.
---
Photo Montage of 1968 Geesink/DAF Broom Sweeper + Toy Photos
This vintage DAF mechanical broom sweeper – and the toy model that was made of it – offer a snapshot of how the European-built Geesink sweepers on DAF chassis looked circa 1968. Check it out.
---
Danny Downs Makes Small Models of Austin Western Sweepers
Model builder, Danny Downs, has made a number of extremely small models in the last four decades. We offer stories and information about two vintage Austin Western sweeper models he has built, one each of the Model 40 and the Model 50. You won't believe how detailed and precise the work of this craftsman is! Check out the Model 40 or the Model 50
---
The 1920 WayCleanse Sweeper's Place in History: From The Sanitary City, 1920
"After many years of experimenting, Mr. Bernard Kern has succeeded in solving all the problems pertaining to this type of machine (street sweepers), such as dust separation, gutter sweeping, and ease of control; and, he now has in successful operation machines that are practical in every respect."

As the article's editor goes on to relate... "This new sweeper not only removes all the kinds of debris collected by the earlier types of cleaning appliances but, in addition, removes the fine densely germ-laden dust. It remained for Mr. Bernard Kern to evolve a final design of suction street-sweeper that really works under all operating conditions." Take a look.
---
How the Streets of New York are Cleaned: From Harpers Weekly, November 24, 1877
The following is a verbatim transcript from the pages of the Harper's Weekly, November 24, 1877. WorldSweeper purchased a large photo montage page from the Harper's Weekly and the owners were good enough to find the article information to include, as well. Take a look.
---
Austin Western: Once the 'Gold Standard' of Sweeping and Road Equipment
Austin-Western was the first road machinery company, with its origins dating back to the start of modern road building after the civil war. Later, the company started making the Austin Western 'Patrol' series sweeper, designed by the legendary Alex Tremulus. Take a look.
---
Charles Brooks Patented First Sweeper in 1896
The first street sweeper is widely credited as being patented by a black man, Charles Brooks, on March 17, 1896. Other sources cite his as just one of many around the same time You can take a look at his photo and patent drawings if you'd like.
---
Have you ever wondered who 'started' the street sweeping industry?
Benjamin Franklin is the person credited with being the Father of street sweeping. In this article you can read in his own words how he got the idea and started the industry you're now involved with. Read the story.
---
Alexander Young's Street Sweeper Invention
This is an account of a horse-drawn sweeper, and the person who invented it in 1902, apparently written by the man's great-granddaughter. Read the story.
---
Radio Interview of the Operator of Canada's "First Practical Street Sweeper"
This great old sound clip was recorded October 30, 1947 by the CBC, in Toronto, Canada. The machine was built by the maintenance staff of the City of Toronto. Link is to a CBC archive with the audio radio interview. Read and hear the story.
---
World Sweeper Slideshow Site
Here we have lots of photos of early sweepers, sweeper advertisements, and more, including a link to postcards you can send. Have a look! Many of these photos may also be sent to others via email from the WorldSweeper.com Postcard Site, and some are available for purchase.
Industry Predictions 2021
At the end of 2020 Ranger Kidwell-Ross, Editor of WorldSweeper, made a series of predictions about what would occur in the power sweeping industry in 2021. How well did he do? See the predictions.
---
Studebaker's Acme Sweeper, Circa Early 1900s


In the early 1900s Studebaker made an extensive line of pavement care machines, including the Acme Sweeper. Use the link to check out the machine. See the predictions.
---
Zoomcast Retirement Interview With Allan Heydorn
For 30 years Allan Heydorn provided educational and ground-breaking information to the sweeping and pavement maintenance industries as Editor of PAVEMENT magazine and Conference Coordinator for the National Pavement Exposition. The hour-long Zoomcast interview between Allan and Ranger Kidwell-Ross, Editor of WorldSweeper, provides a host of information on the topic of pavement maintenance and sweeping, both historic and timely. Watch the Zoomcast.
---
Florence Parpart's 1901 Sweeper
We bring you the street sweeper patent of Florence Parpart. In 1904, she was awarded a patent she filed in July of 1901 for a 'Street Sweeping Machine.' Although she was the lead designer of this sweeper patent, she is more memorably remembered as the inventor of the modern refrigerator. The link contains six drawings Parpart submitted for patent, as well as five pages of explanation for her new invention. Check it out.
---
Bill Ackendorf Reminisces on 30+ Years Selling Street Sweepers
Bill Ackendorf's tenure in the power sweeping industry started in 1983 when he began working for an equipment dealer that represented Elgin Sweepers. Within two years, his considerable talent recognized by Elgin, Bill took a job with them as regional sales manager. As you will read, Bill's impact on the power sweeping industry was to last for over 30 more years. Learn more and see the 18-minute movie.
---
McKinley Page, 'Sweeper Aficionado,' Featured in Short Movie
McKinley "Kenny" Page has loved sweepers since he saw his first one at about the age of three or four. His fascination with street sweepers turned into a lifelong passion. Kenny Page's story came to the attention of Avery Brooks, an interviewer and moderator on Golden Isles TV. The result is an 18-minute movie that generated more comments than ever before received by the producers. Learn more and see the 18-minute movie.
---
Citizens Demand Raise for Their Street Sweeper... in 1918
On July 29, 1918, citizens were so infuriated that the street sweeper for their area was being underpaid that they banded together to keep anyone from sweeping their seven-block area until the regular street sweeper got a raise from $30/month to the $40/month sweepers working in an equivalent area in the center of town were receiving. Read all about it.
---
Kalamazoo, MI Freight Train Strikes Street Sweeper, May 1907
"By the wreck of a Lake Shore freight at 1:30 one man was killed and one injured, probably fatally. The dead is Abner Wenger, fireman and the probably fatally injured is John N. Brownell, who was in the [illegible] of the city street sweeper. The wreck had peculiar features. The street sweeper was going up Portage street when it was struck by the freight running double-headed." So read the dispatch to the Elkhart, Indiana, Daily Review, on May 6, 1907. To read this article, as well as others from our sweeping history archives, use the link below. Take a look.
---
How Street Sweepers Work
The editors at How Stuff Works have written an accurate, comprehensive overview of the development of street sweeping and the machines that perform the activity today, which they say involves "drivers steering boxlike vehicles that look like a cross between a Zamboni machine and a dump truck." You'll find it an interesting saga, no matter your level of sweeping industry involvement. Take a look.
---
Horse-Drawn Studebaker Sweeper is an Old-Timer!
Check out a sweeper used in the first half of the 20th century in a lumber mill in Oregon. As you will learn, the machine was used for sweeping up the mill's dock area, as well as on some of the surrounding 'plank' roads surrounding the Booth-Kelly Lumber Company mill. Take a look.
---
Street Cleaning Practice in Berkeley, California 1941
The Routine? Hand Sweeping, Collection Truck and Deep Gutters... This article was originally published in The American City, April, 1941, and was written by Hary Goodridge, City Engineer and Superintendent of Streets, Berkeley Department of Public Works. Take a look.
---
Explanation of a 'Street Sweeper' from Answers.com
Answers.com is one of the Internet's premier sites for getting an explanation of just about anything. Here's a link to what they have to say about street sweepers. The landing page includes a variety of photos of different types of current sweepers in use around the world. Take a look.
---
Street Cleaning in Teaneck, NJ, 1930s
Today, we take it for granted that our city streets are swept on a routine basis with a machine designed for that purpose. That has not always been the case. Here, from the archives of the Teaneck, NJ, Public Library, is a glimpse into a time when the movement from hand sweeping of streets to a whiz-bang new machine was a big deal. Have a look!
---
Vintage Patent Prints of Sweepers
Check out this vintage patent reprints site if you want to see some interesting old sweeper drawings. They also sell reprints, which can be a nice addition to your office wall in any sweeping organization. Once on the website, put the term 'sweeper' in their search box. Have a look!
---
World Sweeper Postcard Site
You can send these images, along with your personal message, to anyone with an email address. That makes them perfect for messages to your sweeping service prospects and clients, as well as to others in the industry. Have a look!
---
The Tao of Sweeping
For those who might want to pursue the more esoteric roots of sweeping, here is the Kanji sign for sweeping, along with a meditative poem about the occupation of sweeping. Have a look!