by Ranger Kidwell-Ross, Editor
Editor's Sweeping Industry Predictions for 2021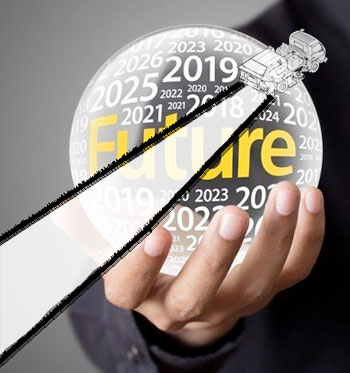 If there was ever a time when it was difficult to make an industry prognostication for the coming year, right now would be a good candidate. Currently, although there is excitement about the prospects of an effective vaccine for COVID-19, we still don't know what the outcome will be.




In any event, there is little to no chance that our society will be back to normal until at least the middle of 2021. That said, here are my predictions going into 2021.
---
Parking Area Sweeping
For parking area sweeping and the parking lots of retail support organizations, much will depend on the pandemics abatement. However, due to the drastic increase in online shopping created by the virus, retail traffic may not ever get back to what it was before. Still, any shopping center that is open will need at least periodic sweeping even though the frequency per week will probably, on average, be reduced.
Margins will also be tightened, so I encourage contractors to make every effort to minimize their expenses. This includes use of sweepers with the lowest possible fuel and repair item expense profiles. Are there areas where you can do the job with a single-engine, or a smaller, sweeper? I note from Victory Sweepers' recent advertisements that the company expects to have a single-engine sweeper expected to compete with the current Nite-Hawk models by the second quarter of 2021.
If you can, negotiate better discounts with suppliers through larger purchases. If you're not already a member, join the World Sweeping Association (WSA). For just $350/year you will be eligible for discounts from a variety of sweeper manufacturers and other suppliers.
Keeping up with the latest in industry breaking news will also become even more important. This is another area where WSA also shines, since WSA members receive an email bulletin with the latest intel and info on the 1st and 15th of each month. Although these are 'member only' bulletins, here is a link to a recent WSA Member Update so you can see the kind of info WSA members receive twice per month. (Full disclosure: I am the Executive Director of WSA in addition to being Editor of WorldSweeper.)
If you don't have a way to track your time spent at all of your account locations, as well as solid knowledge about your fixed and variable costs of doing business, I encourage you to get the software needed to do so. It will become more critical than ever for you to know the profit margin of each and every account you service so you can make sure of the profit margin each represents.
Also consider what besides sweeping you might be able to provide to your clients. For example, if you currently sub out services that require a low initial investment – like line striping, power washing, large item removal, sign and parking bumper repair/replacement, as examples – then chart out what it would take for you to bring those items in-house as additional profit centers.
While you're at it, consider other services you might be able to provide that you currently do not. As examples, how about rental space cleanout? Having a service where you show empty retail spaces to prospective new renters can also be a profit source. How about providing a condition survey every month? Think about what non-sweeping needs your current customers might have and proactively talk to them about how you might assist.
Strongly consider the addition of Jim Blackerby's SweepInspect! software program to make it easier to rate the jobs done by your operators, provide professional, streamlined customer contact about anything of not on their properties and much more. At a subscription rate of $200/month, most parking area sweeping companies will easily pay for the system and more via all of its many features. The SweepInspect! program is also a great way to gain more productivity from your current operators in a positive manner.
Something to consider that may occur in 2021 is the availability of a self-driving sweeper; that is, at least no driver will be needed while sweeping in a parking lot. This is something that is being developed by different companies around the world and the technology is maturing rapidly. Parking lot sweeping – because it involves few obstacles and is done at a slower speed than driving on the street – is being seen as a natural for this type of system.
When it becomes available, at a bare minimum single operators will be able to have the sweeper pick up debris around the center of the lot while they blow the sidewalks and perimeters and change out the garbage bags. Although this may not become available in 2021, it should certainly be a possible add-on, even as a retrofit to your current sweeper chassis, by 2022.
Street Sweeping
It is not a partisan statement to say that the incoming administration should be good for street sweeping. The reason is that the Trump administration already has, or is on its way to, abolishing 104 environmental regulations via the EPA and other departments. Many of these feature the ability of industry to produce more pollution without cleanup needed.
In some number of locales, sweeping frequency has been dictated, at least in some part, by how well the municipality or industrial entity was doing in reaching its stormwater permit goals. When the EPA relaxes rules, or chooses not to enforce them, average sweeping frequency falls.
There is no question the incoming Biden administration will overturn some number of these rules and regulations, but it may take awhile to do so. However, once the predicted rollback occurs, contractors that are educated about the reasons why street sweeping is the 'first line of defense' for pavement-based pollutants will become increasingly effective.
The budgets for municipal and state DOT street sweeping will probably falter unless stimulus money is provided to prop up America's city and state budgets. Unless and until that occurs, it is likely street sweeping frequency will be reduced and, in some cases, eliminated.
Expect moving vehicles as part of a sweeping program to become more difficult, and so not as widespread, in 2021. Before the pandemic, only about 5% of the population worked from home; by the middle of 2021 it is predicted over 30% will do so. However, if your street sweeping clients are considering stopping their vehicle removal program, be sure they know about the programs available through the RubiconSmartCity program. Rubicon offers a variety of software solutions that have received rave reviews for increasing the value of sweeping, including the ability to calculate how much debris would likely be left on the street with a reversal to allowing on-street parking during sweeping... and more.
Look for an increase in the number and type of electric sweepers becoming available, as well as a higher acceptance and/or requirement of using both them and alternative fuel sweepers. Look for the Trombia autonomous sweeper to enter the U.S. market space in mid-to-late 2021, as well.
On December 1st a company called Tantech, a 'clean energy company' in China, announced its own innovative driverless and autonomous street sweeper. This past January the German company, Faun, launched the world's first sweepers with fuel cell drives. The fuel cell drive is emission-free and, at the same time, have a significantly higher output than battery-powered vehicles and the hydrogen tank on the vehicles are many times lighter than a comparable battery, so more payload remains available.
Construction Sweeping
The amount of construction sweeping done in 2021 will likely be tied to the federal government's support of municipal budgets, as well as to the amount of pandemic stimulus provided to keep the business community rolling. The biggest prospect for increased construction sweeping, though, is the likelihood of the long-promised infrastructure legislation that Biden is likely to promote.
If you are heavy into construction sweeping and it appears that an infrastructure bill is definitely on the horizon, take inventory of what sweepers you may need to purchase and consider working with your chosen manufacturer(s) to make sure you can get in line to purchase the new sweepers that you will need. By the same token, start looking around for CDL drivers that will be required to drive them.
Extra credit...
Some of you reading this have businesses that are in financial trouble. Others are considering selling their businesses, either due to the pandemic and its health and safety concerns or due to the changing business climate. In this time of uncertainty on both of those counts, I encourage you to both develop a succession plan and get your business accounting affairs in order.
In 2020, we saw a number of sweeping company acquisitions by private equity firms that have "discovered" sweeping as a good industry to enter. Because Sweeping Corporation of America was recently sold to new owners by Soundcore, the private equity company that first packaged the multi-sweeping company conglomerate, expect new PE firms that see the profit potential of also doing so enter the marketplace.
When they come calling, you'll maximize any sales price by having your books readily available and looking good (after signing an NDA, of course...). To get going quickly, those types of companies pay a higher multiple to the first businesses they acquire. The multiple goes down as more companies are purchased.
On that topic – and as my final prediction for 2021 – I predict next year will be my last before retiring after 34 years of industry involvement. I've stayed on longer than necessary because of my fondness for the industry and my many friends in it. However, there are some other challenges and interests I believe I'm ready to pursue.
In Conclusion...
As I write this in December of 2020, we are in territory that none of us now living have ever before encountered. Much depends on whether or not the pandemic abates in the coming months as well as the timeframe in which it does so.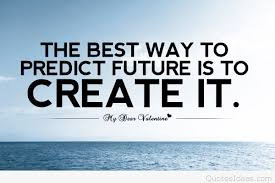 Although the coming year may remain among the most challenging we've ever seen, it should be better than 2020 and it may well offer new opportunities for those who are alert to the possibilities.
In closing, my favorite definition of good luck has always been "where preparation meets opportunity." Being prepared when the opportunities arise is the best way to have YOUR preferred sweeping future match that of the graphic to the right.
Good Sweeping,



Editor, WorldSweeper.com
Executive Director, World Sweeping Association
Member, PAVEMENT Hall of Fame

PS In 2018 I asked a total of 18 sweeping professionals to provide predictions of where they saw the industry headed in the next few years. You may find it enjoyable to read those now, two years downstream.
---
Next year will mark Ranger's 34th year of involvement with the power sweeping industry. If you have a question or comment about this article, please send him an email. If appropriate, we'll add it to the bottom of this page.
---