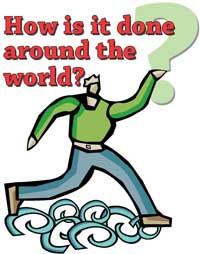 Ranger Kidwell-Ross, our webmaster and Editor of WorldSweeper.com, in 2001-2004 completed intrepid trips to Asia, Australia, and Europe to bring us news of how pavement sweeping is done in some of the countries around the world. The Asia portion of this travelogue won an APEX Award of Excellence in Online Journalism for 2002, while the European travelogue won an Apex Grand Award for 2004.
Table of Contents
Critique of a sweeper in Bordeaux
Here is a step-by-step analysis of how not to maintain an air sweeper. Read the story.
NOT Sweeping in Paris and Lille, France...
While our editor was in France, the entire municipal work force was on a rolling strike. What this meant to his scheduled sweeping interviews was that no one kept their appointments. However, as part of his European travelogue of sweeping, Ranger did write about the problems caused by the accumulating debris, covered a huge municipal rally and strike parade in Lille, and took a look at recycling in the countryside around Bordeaux. Read the France travelogue.