Profile on Rainier Truck and Chassis
by Ranger Kidwell-Ross, Editor, WorldSweeper
May 2021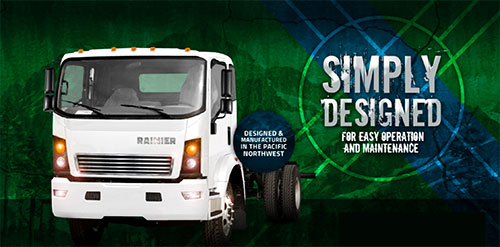 In March of 2021 WorldSweeper published an article detailing the chassis shortages facing the sweeping industry from all three of the major suppliers, Isuzu, Chevrolet and Ford. In this article we showcase an up-and-coming chassis builder based in the Pacific Northwest of the United States. Our sources report that Rainier's Dealer in Madison, Alabama, Velocity Truck Center (formally Neely Coble) has speced a few sweeper models from Rainier.
To provide more information to municipal sweeper users and sweeping contractors about this new chassis builder, we submitted a request to several major sweeper manufacturers in the U.S. to provide us with questions they'd like answered about the company. Then, we contacted Gary Jones, the President and owner of Rainier Truck & Chassis, who agreed to answer whatever questions we might have.
The following are the results of that exchange. We hope you will find them to be of help when considering whether or not to utilize one of Rainier's chassis in your sweeping organization.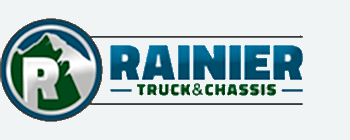 WorldSweeper: Why have you chosen to offer only 300-to-325 HP diesel engines? For the sweeping industry, a smaller – and therefore more economical – engine would be desirable. Are there any future plans for a smaller, maybe 215 HP, diesel engine?
Rainier's Gary Jones: We offer a Keep It Simple Stupid (KISS) common cab-and-chassis platform that was purposely designed to share most parts between all the models; this commitment includes powertrains. Doing this helps reduce overall dealer and customer operational costs by reducing the number of parts, training and maintenance parts needed to service the vehicle. And, speaking of service, we designed the Rainier chassis so anyone can fix it.
If you have an issue with the engine you go to Cummins, if the Allison tranny is misbehaving you go to Allison. All of Rainier's cab-and-chassis share the same cab and parts whether it's the windshield, engines, cabs, bumpers, etc. Offering the Cummins B6.7 300 & 325 HP diesel says the end-users will never have a lack of power to run anything they want, including powering PTO's.
WorldSweeper: How do you plan to beat the 'curse' of the Class 5 chassis builders? In recent months Mitsubishi Fuso has departed the North American market and HINO's failure to meet US emission requirements has shut them until at least October, possibly forever. As a start-up, how will you reassure your customer that there will be a Rainier Truck & Chassis down the road to honor its warranties?
Rainier's Gary Jones: We started Rainier in 2014. We are patient and have seen a lot of interesting things happen in the market place since then. For example, why would you put an underpowered 4-cylinder engine in a class 5/6 truck? Efficiency is not everything. We are a flat organization and don't have a lot of overhead. We do not foresee any issues in regard to our being able to service what we sell or regarding warranties.
WorldSweeper: Will your Class 5 chassis be available with a rear air-ride option? How about two-speed rear ends?
Rainier's Gary Jones: Yes to both: one of our dealers has ordered a few already.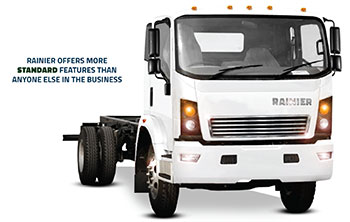 WorldSweeper: Are there any plans to offer an electric hybrid version of your Class 5 chassis?
Rainier's Gary Jones: Yes
WorldSweeper: How about your expected delivery schedule: How long do you estimate a builder will need to wait from when they place an order to delivery?
Rainier's Gary Jones: When the dust settles from ramping production up we are estimating an 8-10 week lead time.
WorldSweeper: On the topic of your wheelbase: The shortest one listed on your website currently is 117". Most sweeper builders use a 109" wheelbase. Are there any plans to accommodate them?
Rainier's Gary Jones: Absolutely. We have no problem making a 109" wheelbase chassis; just ask us.
WorldSweeper: On the topic of air brakes: All of your chassis are equipped with air brakes. Will a hydraulic brake version be available?
Rainier's Gary Jones: We utilized air brakes on all our models because we can quicky build a custom wheelbase faster for the customer vs ordering the hard lines needed for hydraulic brakes.
WorldSweeper: How much of the overall chassis are built in US?
Rainier's Gary Jones: All of our chassis is made in the US with the exception of the cab.
WorldSweeper: How are warranties handled covering the 50 US states? For warranty repairs, will people in sweeping be going their respective sweeper dealers or elsewhere?
Rainier's Gary Jones: All warranty needs will be handled by the Rainier factory along with Rainier's dealers. If there is not a dealer in the area we will establish a service and repair facility, no different from what most OEMs such as AUTOCAR, CRANE CARRIER, etc. do for warranty work.
WorldSweeper: How about Canada and Puerto Rico; will you be selling into those markets?
Rainier's Gary Jones: We will eventually but right now we are focusing on the lower 48 states. Canada's laws are a bit different than those in the US, so we're not going to be making a Canada-compliant chassis in the near future. It makes sense to roll out into the US first.
WorldSweeper: Since you're located in the Pacific NW, in Yakima, Washington, I know you will be relying on dealers to handle your product around the US. What has the reaction been to a new US-built chassis coming into the marketplace?
Rainier's Gary Jones: The Rainier chassis has generated tremendous buzz. To start out, we are concentrating our efforts where the demand is greatest, which is in the NE part of the US. After that we will be moving into the SE and other areas where we already have seen significant interest.
So far, we have dealers in Alabama, California, Florida, Illinois, Maine, Massachusetts, Missouri, New Hampshire, New Jersey, New York, Rhode Island and Vermont, with more being added all the time. We're very pleased with the reaction to our chassis that some great dealership organizations have had. We are confident we have a product that will do very well in a wide variety of market sectors, including the sweeping industry.
---
If you have questions for WorldSweeper, please send them to editor@ worldsweeper.com.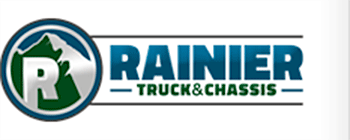 To reach Gary Jones of Rainier via email, send an email to gary.jones@ rainiertruckandchassis.com. You may also reach the company by phone between 8am and 3pm by calling 509-571-1030.