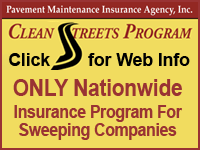 Broom Sweeping Compared to Vacuum in New Bedford, MA, Test.
The study conducted in New Bedford concludes its street-sweeping program has removed about 3.8 million kilograms of street dirt, along with associated pollutants. Compares effectiveness of vacuum vs. mechanical broom technology. Read the story.

Toronto Study Moves Fleet From Mechanical to Regenerative Air
City of Toronto concludes they should get a 35% improvement in PM10 content of ambient air citywide once they change their current 50 sweeper mechanical broom fleet to regenerative air. Read the study criteria or the staff report (PDF files).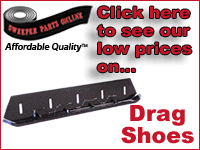 Pre-Employment Testing: Key to Employee Turnover and Accident Reduction?
Pre-employment testing can provide a significant boost in employee longevity and safety. Read the Story.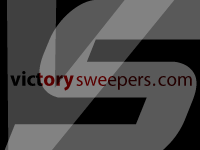 Costs Associated With Municipal Purchase of New Sweeping Equipment
This new municipal form is designed to help assess costs of sweeper purchase (vs. using a contractor). Go to the story.

Sweeping the Streets of America's Cleanest Cities
Portland, OR, and San Jose, CA are highlighted as two of Reader's Digest's Top Five Cleanest Cities in America for 2006. Read the articles to decide what role their sweeping department played in their selections. Read the stories.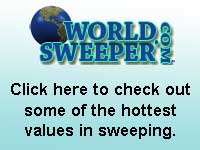 'New' Sweeper Manufacturer Has 30-Year Ties to Industry
Although his new sweeper manufacturing company, Victory Sweepers, Inc., is a startup, Mark Schwarze-built sweepers have a long history and positive reputation in the industry. Go to story.

The Latest Edition of Fundamentals of the Power Sweeping Business Now for Sale
Our editor has updated the 'bible' of how to run a contractor sweeping business, and it's on sale now. Read about the book.
The Editor's Overview
In this edition of our opinion page feature, WorldSweeper.com's editor, Ranger Kidwell-Ross, discusses the current crop of stories. Read it.

Seattle Paired Basin Study Focuses on Water Quality
'Seattle Street Sweep' is a pilot project ongoing in 2006 – 2007 designed to evaluate best practices and new technology to improve the health of Seattle's waters. The link is to an interview with the study director that discusses the study design and other parameters. Read about it.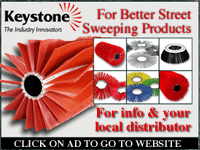 What You Need to Know About Ultra Low Sulfur Diesel and Emissions Changes
Ultra low sulfur diesel will soon be the norm. Make sure your fleet is ready. Read the story.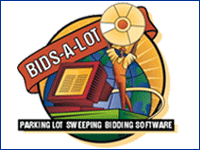 An interview with the CEO of Symbiot Business Group, National Aggregator of Pavement and Landscaping Services.
After bankrupting two of its business groups, Symbiot's CEO charts course for his company's future and that of sweeping service national aggregators. Read the story.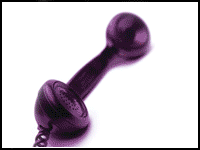 Street Smarts: Cleaning Up Gutter Clutter.
NAPSA's Administrative Director provides an overview of the connections between storm water runoff pollution and sweeping. Read the story.

Have comments, story ideas, industry news, etc.?
We're interested in your ideas about what you'd like to read from us. Perhaps we should even be writing about you! Let us know.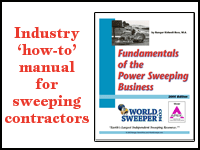 Read the Latest in Sweeping at the Editor's Notebook
You'll find the latest in industry news releases and more at our editor's blog. Go to Editor's Notebook.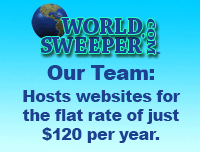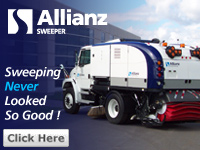 Some California Municipalities Sharing Same Clean Water Program Manager
With the rise of complex regulations out west, some smaller cities find value in sharing a dedicated stormwater specialist. Read the story.

The Current Status of Vacuum and Waterless Sweeping as Best Management Practices
Mark Kinter, Technical Consultant for Elgin, weighs in on the previously reported dialogue between the editors of Better Roads magazine and WorldSweeper.com. Read the story.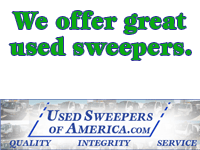 What If Business School Reflected Reality?
For a dose of humor, the authors help contractors look back upon lessons learned while running their business. Read the story.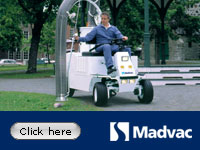 Sweeping From a Visitor's View in Scandanavia and Russia
Mike Dyck, principal with California-based Masco Sweepers, traveled in Scandanavia and returned with some information and photos about the sweeping he saw while there. Go to story.

Product Review From APWA 2006
Our editor conducted audio interviews with providers of a number of sweeping-related products at APWA this year. Listen to interviews.

Are you in our Contractor Locator or Sweeping Products online resource areas?
We have a place for people to find a sweeping contractor in their local area, as well as those who provide products to the industry. Have you listed your company yet? Get listed in our contractor section.
Get listed in our sweeping products section.