Special Product Information From WorldSweeper.com
If you have any suggestions for this or any other section of the website, please let us know!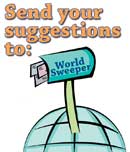 Click on the graphic above for an email window.
Here are some of our most popular info items, as well as some that are temporary or limited. If you're interested in knowing more about any of these, just give us a call, toll free, at 866-635-2205 (9 to 5, Pacific), or send us an email.
For your convenience, this information is also downloadable as a PDF file.