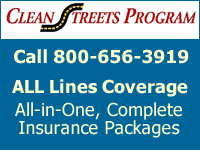 Brake Pad Partnership Seeks to Remove Copper From Stormwater Runoff
Previously unpublished study from California's Brake Pad Partnership detail sweepers' ability to address copper on streets. Read the story.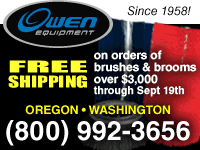 Sweepers, The 'Miracle Pollution Reduction Machines'
NAPSA Senior Advisor, Mark Carter, provides an example of the environmentalism of even Athey-Mobils and other older broom sweepers. Part of the industry defense to the California Air Resources Board's proposed rulings. Read the story.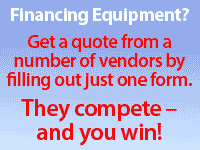 Well's Sweeping: Complete Sweeping Services and Politics, Too
Jay Wells got into sweeping in the early '70s, after meeting Jack Rogers, inventor of single-engine sweeping. Today they do it all -- including lobbying. Read the story.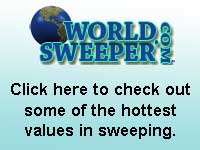 Help Wanted Ads That Draw In Great Prospects -- and Where to Place Them
This author says there's only one reliable place to get new employees: STEAL THEM FROM THE COMPETITION. Take a look.

Dust Control for Sweepers: An International Perspective
There is new dust control information to be learned from this dialogue between sweeping pros in Alaska and Norway. Go to story.

Selling in a Recession:
5 Strategies for Selling in Tough Markets
There are steps you can take to make sure the impact on your sales are minimized during a downturn in the economy. These are also valid when there has been a downturn in your sales for any reason and you want to give your sales program a boost. Read the story.

The Editor's Notebook
You'll find the latest in industry news releases and more at our editor's blog. Go to Editor's Notebook.

The Editor's Overview
In this edition of our opinion page feature, WorldSweeper.com's editor, Ranger Kidwell-Ross, discusses the impact of environmental regulations and parts outsourcing will have on the industry.
Read it.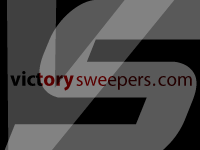 Broom Materials Price Increases Causing Burden to Industry
The price volatility of the raw materials for sweeper brooms, primarily polypropylene and steel, has never been higher. Info from industry veterans. Read the story.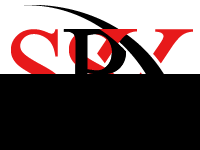 Covenant Sweeping's Success Credited to Higher Power
Although Darren Lagana credits the success of his companies to his belief in a Higher Power, he also clearly is of the school that "the Lord helps those who help themselves." Go to story.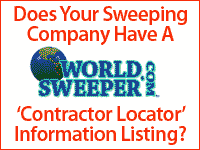 Six Tax Tips for 2008
It's still possible to effect tax burden change in 2008. Consider these expert tips in order to keep more of your hard-earned cash come April 2009. Read the story.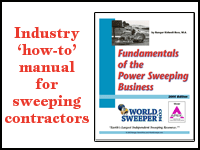 How Safe Is Your Income If You Get Injured and Can't Work?
When your income is dependent on your availability, your income is never fully safe. Your wealth and security are threatened. Read the story.

The Importance and Strategy of Conducting Exit Interviews
An Exit Interview is a final meeting between an employer and a departing employee. By conducting one, the employer is better able to learn what the reasons are for the departure, and to gain valuable information that can be helpful to improve or protect the firm in the future. Read the story.

Have comments, story ideas, industry news, etc.?
We're interested in your ideas about what you'd like to read from us. Perhaps we should even be writing about you! Let us know.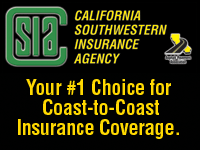 Updates on California Air Resources Board Proposals for Eliminating Older Sweepers
The agency has street-class sweepers included for impending regulation. To address the situation, NAPSA has organized what amounts to a California NAPSA Chapter. Go to story.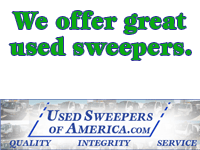 Care to be Swept Up by a Sweeper? Now You Can!
A service sponsored by Mike's Hard Lemonade allows you to have an email message purporting to show that you were sucked into an Athey-Mobil sweeper. You become part of a television newscast that reports you have been swept into a sweeper, so won't be able to make it to work... Go to story.
Canadian Street Sweeper Video Added to Archives
New additions include a gritty video snapshot of street sweeper operators in Vancouver, British Columbia, Canada. The nearly 10-minute video by the Vancouver Film School, called 'Life of Grime,' offers a rare look into the nightlife of big city sweeper operators. Read the story.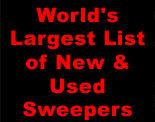 Cannon Pacific is a Southern California Powerhouse
Based in the San Diego, California area, Cannon Pacific's management has been at the forefront of keeping current with water and air quality issues and how these are affected by sweeping. Take a look.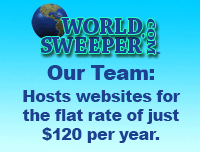 Recruitment and Retention Strategies: How to Attract, Keep and Motivate Today's Workforce
A recent study shows 85% of HR executives state the single greatest challenge they have in managing the workforce is their organization's inability to recruit and retain good employees and managers. Read the story.