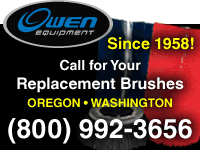 Dealing With Negative Attitudes in the Workplace
If you want to build a great working team, everyone needs to get along. Here are some proven ways to make that happen on your workforce. Read the story.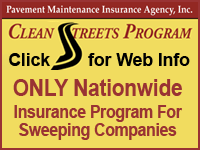 Gabriel Vitale's Overview and Tips for Outside Salesperson Compensation
Listen in as Gabriel Vitale, a long-time contractor and NAPSA past president, gives his ideas for how to structure compensation when hiring an outside salesperson. (Approx. 8.5-minute mp3 audio interview). Read/listen to the story.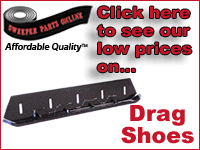 The 50/50 Rule: A Discussion of Relative Maintenance Costs
Benefit by the statistics available to larger fleets. If you don't know John Dolce's '50/50 Rule, you may not be trading out your vehicles at the right time in their service life. Read the story.

Finders Keepers, Losers Weepers:
Proven Ways to Retain Your Best Employees
Employers face enormous challenges when they consider the increasing difficulty of finding skilled people, a more demanding younger workforce, and a growing population of older workers heading toward retirement. Read the story.

You Can Avoid the Most Common Interviewing Mistakes
Current statistics suggest that on average, hiring the wrong person for the job costs an organization at least 2-1/2 times the employee's salary. Read the story.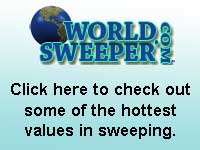 Get Ahead with Adobe Acrobat PDF Files
Save time and gain a competitive advantage through the use of email and Adobe's Acrobat Reader PDF files. Read the story.
The Editor's Overview
In this edition of our opinion page feature, WorldSweeper.com's editor, Ranger Kidwell-Ross, discusses the stories from this issue and the impact they portend for the industry.
Read it.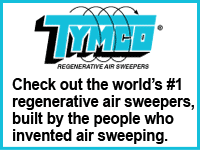 The Movement Toward Verification of Stormwater Runoff Pollutant Removal by Parking Area Sweepers
Cities and other public agencies have a growing interest in finding a way to gauge parking lot sweeper effectiveness. Read/listen to the story.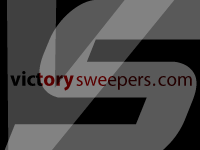 A Sales Compensation Plan That Supercharges Profits
Here are some great ideas for designing a salesperson compensation plan that makes everyone money. Read/listen to the story.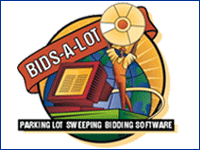 Define Your Difference To Stand Out and Make Your Business Shine
Thoughtfully defining your business -- and your differentiation -- will help you to understand who you are, what you do, and what makes you different. Read the story.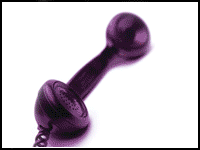 Mystic Washer Provides New Take on Pressure Washing
Product allows faster washing of flat or vertical surfaces and allows used water to be reclaimed in environmentally-sensitive areas and situations. Read the story.

Have comments, story ideas, industry news, etc.?
We're interested in your ideas about what you'd like to read from us. Perhaps we should even be writing about you! Let us know.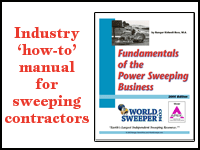 Read the Latest in Sweeping at the Editor's Notebook
You'll find the latest in industry news releases and more at our editor's blog. Go to Editor's Notebook.

A Proposed Methodology for Linking Control Effectiveness to Receiving Water Quality
A proposal to help link stormwater BMP control effectiveness for specific pollutants and flow to receiving water loadings, impacts and water quality objectives. Go to story.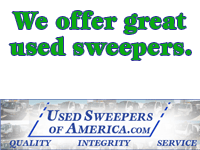 Safety: All-Important When Sweeping on Milling Jobsites
Sweeping on paving/re-paving jobsites is perhaps the most dangerous of all sweeping jobs. Includes audio interviews with 30-year industry veteran Mike Lucht, and 35-year contractor John Dubbioso. Go to story.

Empowerment + Training = Leadership = Profitable Growth
You will never build a successful sweeping company by being the only leader. Read the story.

The Rise of Biodiesel
You can now own the award-winning new book on the topic of biodiesel written by WorldSweeper.com's editor. If you'd like, review the table of contents and first chapter free of charge, but as biodiesel enters the sweeping arena you'll benefit from owning a copy for yourself! Take a look.

Protecting Your Company From Employee Theft
The average cost of employee theft is $159,000. Even more alarming is that the cost of embezzlement schemes at businesses with less than 100 employees is 20% more than at larger entities. Read how a pro says you can safeguard your company. Read the story.

Webinars Offer the Power of Learning -- Without Being There!
The power of the Internet brings professional-strength training as close as your nearest telephone and PC using the latest in audio conferencing. It's easy, affordable and effective. Read the story.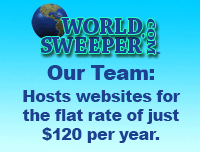 Are you in our Contractor Locator or Sweeping Products online resource areas?
We have a place for people to find a sweeping contractor in their local area, as well as those who provide products to the industry. Have you listed your company yet? Get listed in our contractor section.
Get listed in our sweeping products section.