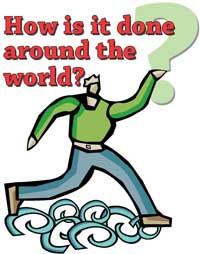 Ranger Kidwell-Ross, our webmaster and Editor of WorldSweeper.com, in 2001-2004 completed intrepid trips to Asia, Australia, and Europe to bring us news of how pavement sweeping is done in some of the countries around the world. The Asia portion of this travelogue won an APEX Award of Excellence in Online Journalism for 2002, while the European travelogue won an Apex Grand Award for 2004.
Table of Contents
The Cleaning of Évora, Walled City of Portugal
If you're responsible for sweeping one or more of the historical districts in your town, you're aware that it's sometimes difficult to match today's technology with an infrastructure created in times long past. So, imagine having to clean an entire historical city that, in some parts, dates back to the first century AD! That's the challenge facing the street cleaning department of Évora, a beautiful walled city in Portugal. Read the story.