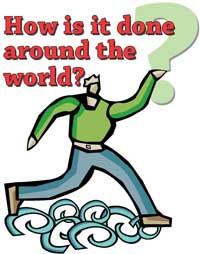 Table of Contents
Norwegian Town Honors Beloved Street Sweeper with a Statue
For more than 20 years, Kjetil Paulsen has been cleaning the streets of Sortland. Now the citizens of Sortland would like to honor him and his relentless dedication for the city, by erecting a statue in honor of his retirement. This article has a special place in our 'Noteworthy in Sweeping' feature section of the website. Read about Kjetil Paulsen.
Street Sweeping in Drammen, Norway
Located less than 100 km from Oslo, Drammen is one of the largest cities in Norway. Because of its location spanning a river at the river's mouth, and its importance as a rail and sea industry hub, Drammen is facing pollutants that threaten the pristine way of life long enjoyed by its citizens. Drammen's Chief Municipal Engineer tells how the city is coping with pollution removal through street sweeping. Read the story.