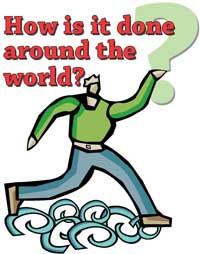 Ranger Kidwell-Ross, our webmaster and Editor of WorldSweeper.com, in 2001-2004 completed intrepid trips to Asia, Australia, and Europe to bring us news of how pavement sweeping is done in some of the countries around the world. The Asia portion of this travelogue won an APEX Award of Excellence in Online Journalism for 2002, while the European travelogue won an Apex Grand Award for 2004.
Table of Contents
City of Heidelberg Sweeping Program Emphasizes Education, Total Coverage
Heidelberg's scenic beauty provides plenty of Kodak moments for its estimated 3 million visitors per year. That's a big number for a town of only 140,000 year round residents, which includes the 30,000 students who attend Heidelberg University. Here's how they keep the city clean. Read the story.
Hako Factory Tour Showcases German Engineering Savvy
The Hako sweeper factory, located near Hamburg, Germany, is the showcase for one of the world's largest family-owned businesses, Hako-Werke GmbH. Read the story.
Ten Hako Citymaster 300's Support Newly-Formed 'Team Work Concept' in Street Cleansing Hamburg
As a result of testing done by the Hamburg Street Cleansing Department with the Hako Citymaster 300, the city is now using 10 of the machines to replace manual sweeping efforts in footpaths and open spaces. Read the story.