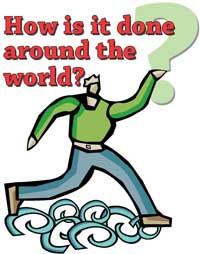 Ranger Kidwell-Ross, our webmaster and Editor of WorldSweeper.com, in 2001-2004 completed intrepid trips to Asia, Australia, and Europe to bring us news of how pavement sweeping is done in some of the countries around the world. The Asia portion of this travelogue won an APEX Award of Excellence in Online Journalism for 2002, while the European travelogue won an Apex Grand Award for 2004.
Table of Contents
Chinese Street Sweepers Work Hard for Little Money and Lack Protection
China's Unique 'Double Main Broom' Concept
Mr. Sun, Chinese Sweeping Entrepreneur
China's Great Wall: World's Biggest Sweeping Opportunity?
The Manual Cleaning of the City of Hong Kong
The Mechanical Street Sweeping Program of the City of Hong Kong