We appreciate any suggestions you might have for this section.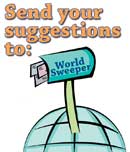 Click on the graphic above for an email window.
Table of Contents
From standard air sweepers to tow-behind to drag mats, the airports reviewed utilize a variety of techniques and equipment to keep FOD (Foreign Object Damage) to an absolute minimum.
Here's an overview you'll find useful in deciding whether it's better to contract for runway sweeping or to perform the duty with an in-house sweeper fleet. Useful for airport personnel and private sweeping contractors interested in runway sweeping.
If you're a big city or airport, you can probably afford to buy a sweeper for one purpose only. However, when you're small you have to buy one that can do everything, including leaves. If that's you, here's what you should consider.