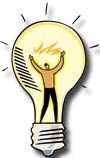 Bonus Programs Can Help Retain and Improve Employees
by Ranger Kidwell-Ross, editor, WorldSweeper.com

In sweeping, your operators are a key to profitability. Developing bonus and other recognition programs are a good way to both reduce turnover and increase employee loyalty to your organization, whether you're a municipality or a sweeping contractor. Here are just a few ideas, gleaned from what others have done:
Shop mechanics are given a cake on their anniversary, along with $100 for each year employed -- made out in a check to the Snap-On Tool Company where they buy tools for the job.


Up to twice a year employees' children are given a $50 savings bond when they bring in an 'all A's report card.'


Reward employees with a 'Safety Bonus Program' (this would be especially good for your sweeper operators). Each employee's driving record is screened twice a year and anyone with a citation is removed from the program. At the end of the year, those still in the program split the bonus amount among them, perhaps $1,000 to $2,000.


To eliminate the 'we-they syndrome,' every so often employees rotate jobs for an hour. When such a program is undertaken, it has been shown to build a stronger team and improve communication within companies.
The above are just some ideas designed to get your own creative juices flowing in terms of building community within your company. Remember: Good organizations involve the ideas and suggestions of everyone. Work with your employees to make your organization the kind of place where people want to stay. It's a lot better than constantly putting help wanted ads in the paper!
Have a comment on this Tip or an idea that would be helpful to others in the industry? Please let us know what it is.