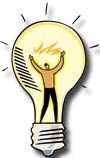 When it Comes to Safety Protection, All Earplugs are Not the Same
by John Davidson, principal, Davidson-Macri Sweeping, Inc.

At our company we take safety very seriously. In the process of sweeping and being around sweepers, our workers are subjected to a high level of noise. This is especially true for our backpack blower operators.

To do all we can to prevent hearing loss among our workers, we have an earplug dispenser handy to the shop. However, it was only a few years ago that I learned that all earplugs are not made the same. You'll find that some are rated at around 20dB, yet others, at about the same price, come in at over 30dB.

My suggestion is both to require the use of earplugs during high noise activities, like backpack blower use, and to check to see the earplugs being used have a good dB rating. (We buy ours from the industrial supply house, Grainger.)

Have an idea that would be helpful to others in the industry? Please let us know what it is.