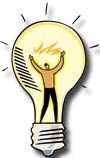 Push Bumper and Hideaway Strobes Minimize Potential for Accident and Damage if One Occurs
This Tip was provided by Michael Kannewurf, of L&M Supervac Inc. You may reach him via email.

Stock bumpers don't do much to reduce damage when a sweeper runs into something. Here's a 25-year sweeping veteran who says he's learned by experience to install a heavier duty bumper to his sweepers, and he also espouses the value of 'hideaway strobes.'
Rather than the bumper that comes stock on a cabover sweeper chassis, I replace it with a heavier duty type of bumper, called a 'push bumper.' It has a rubber face, which allows it to be used to push other vehicles without causing scratches, and it also has collapsible brackets. The net result is that, compared to the original equipment bumpers, it will reduce or eliminate damage in low speed accidents.
I get mine from a place called A.W. Direct, for about $550. (Put in 'push bumper' in the search box.) In addition to the bumpers, they also stock a wide variety of other safety-type gear, strobe lights and much more of interest to a sweeping contractor. I'd recommend that anyone in sweeping might benefit from taking a look at their catalog.
I also have outfitted my sweeper chassis with what are called 'hideaway strobe lights.' This is a strobe system where the bulbs are installed alongside of the regular bulbs in parking lights of the chassis. They are then operated via a controller. These provide excellent visibility for the sweeper, yet don't increase the height at all, as does a light bar. That makes it an excellent solution for situations where you want more visibility for your sweeper without increasing its height.
I also prefer this type of light over a barlight because there aren't any gears operating the lights. I've found that the plastic gears in barlight motors wear out relatively often, but with the hideaway strobes all that breaks is the bulbs need replaced once every year or so.
Thanks to Michael for his online Tip. Have an idea that would be helpful to others in the industry? Please let us know what it is.