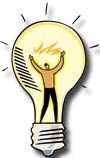 Ensuring Consistent Battery Voltage on Older Sweepers
This Tip was provided by Jordan Knoflicek, JAK Enterprises, located in Wisconsin. You may reach Jordan via email sent to jakent1@idcnet.com.
I have an early '80s Supervac and I had some problems with battery voltage dropping after several hours of idling around a parking lot at night. The lights would go dim and the beacon would spin slower. One time the truck engine even died from lack of voltage getting to the coil. This was a two-battery system with a 100-ampere Delco alternator.
Photo shows alternator connection system
To resolve the problem, I put a 75-ampere alternator, with a one-wire hookup, self-exciting regulator, on the auxiliary engine. Now, even when the truck is idling and barely charging, the auxiliary engine is throttled up and doing the bulk of the charging. This was probably one of the best things I ever did to improve my sweeper's system. Now, the voltmeter rarely, if ever, moves away from charging 14 volts.
To do this, I put a 6" pulley on the end of the auxiliary engine's crankshaft, just behind the fan's drive pulley. I welded up a mount for the auxiliary alternator, then I made a #10 wire run from the alternator to the auxiliary engine's starter solenoid. Be sure to hook up the wire on the proper side of the solenoid! This 'fix' will certainly solve a low charging situation on an older Supervac.
Thanks to Jordan for his Tip. Have an idea that would be helpful to others in the industry? Please let us know what it is.