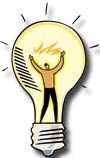 Light Up Your Tool Storage Area.
Greg and Pam Porter, owners of Porter's Parking Area Maintenance, are located in Indiana. Here is their Tip:

The tool storage area on the new Supervacs is great, but at night it can be hard to see just what's inside. We solved this problem by putting a light into the back of it. Now, as the photos show, it's easy to see well enough to reach for anything that we have stored in there.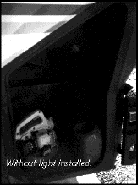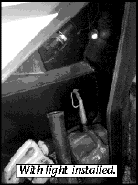 To install the light, we snapped an inline wire connector onto the 12 volt wire in the cargo box that leads to the running lights. From the connector we ran a wire to a utility light, a variety of which are available at any auto parts store (this type cost us $3).
The light was attached by loosening a pre-existing bolt in the compartment enough to slide the bracket on the light underneath, and then the bolt was re-tightened.
Because the light is connected to the running light wire, the utility light is on any time that the running lights are on. It sure makes it a lot easier to see what is in the tool compartment when you're out at night.
Our thanks to Greg and Pam for their Tip. Have an idea that would be helpful to others in the industry? Please let us know what it is.