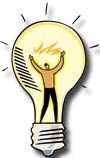 Reduce Downtime With Local Parts.
This Tip was provided by Marty Braun of Martin's Power Sweeping:

I was happy to find that the C-240 Isuzu industrial engines that are now mounted on the 348 series Schwarze sweepers were standard equipment power units for the 1981-1983 Chevrolet Luv diesel pickup trucks.

This means that the parts for it can be purchased at my local auto parts store. Being able to get them locally can mean a day or more less downtime, and the cost may also be better than going through Isuzu for them.

Editor's Note: At the time we got this Tip, Chevrolet representatives told us that the part number for this engine has been discontinued, but that the 1.8 liter diesel was the only diesel engine that was standard equipment in the Chevy Luv's during that time period.

The model Marty used is now all but obsolete. However, this Tip can be useful for any number of makes and models of sweepers and auxiliary engines. You can check with the engine manufacturer to see what, if any, large production machines it was used for.

Have an idea that would be helpful to others in the industry? Please let us know what it is.