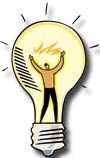 Space Reserved For Your Sweeping Tip
Contributed by Ranger Kidwell-Ross, Editor of Tips and WorldSweeper.com

Here's a "Tip" of my own. If you are involved with sweeping, then this is your project, too. Please become involved with the information that appears on this website.

If you have a Tip that would be of general help to those in the sweeping business, please let us know what it is. Likewise, if you have any information about topics which should appear in the magazine, or this web site, be sure to tell us. Your involvement can make a significant contribution to your industry. Let's "just do it" - together.