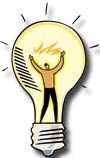 Install Second Muffler For Quieter Sweeping?
This modification was suggested by Ray Smith of Pantry Pride:

We had to reduce the amount of sound on our Murphy diesel, so I installed a second muffler. It does a good job of cutting the sound, and it was no problem to find one that would just fit between the engine and the fan housing.

Editor's Note: Since many contractors operate at night when noise can be a problem, this is one of those modifications that our engineering staff gets asked about on a fairly regular basis. Although it can be done correctly in some circumstances, it is extremely important that the addition of the second muffler doesn't add too much back pressure.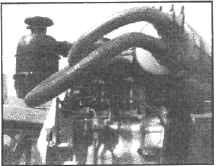 How much is too much, you say? That depends upon the model and make of your particular auxiliary engine. All auxiliary manufacturers recommend that if you take on this particular modification, be sure to contact them directly for detailed instructions on how to proceed.
In general, however, a monometer must first be connected to your engine to measure current back pressure. To do this you have to drill a hole in the exhaust pipe and then tap it out and connect the monometer. Be certain to keep out shavings, etc.
Then the second muffler must be connected and the pressure re-checked accurately at a factory-recommended operating speed. It's not a good job for first-timers, and since a mistake means an overheated engine and a voided warranty, be certain that you know what you're doing. If you need information on how to contact a particular auxiliary engine manufacturer for their specifications, don't hesitate to give us a call.
Have an idea that would be helpful to others in the industry? Please let us know what it is.