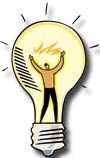 Weld on Worn Bolts to Skid Shoe Brackets
City of Tucson employee has good idea for reusing skid shoe mounting brackets.
City of Tucson sweeper operator, Michael Scott, had an innovative, money-saving idea. The city operates 14 sweepers, cleaning over 27,000 road miles yearly. As all readers can attest, the cost of replacing wear items on sweepers is a significant expense. If a way can be found to reduce the expense, it's definitely a plus.
Scott's idea had to do with the bracket that holds the skid plate onto the side of the main broom on the city's Broom Bear sweeper fleet. In the past, when the bolts on the bracket would wear out, the entire bracket would be replaced, at an expense of $1200. What Michael Scott suggested was to braze new studs into place on the existing skid plates.
According to Paul Rosenboom, Tucson's Streets Maintenance Supervisor, Scott's idea will save the city $31,000 per year. This frees up additional budget, says Rosenboom for the city to allocate to other projects. For this employee spotlight, the City of Tucson partnered with a local television station, which shot the video and then aired it on local TV. This provided local citizens with more knowledge about the city's sweeping program, as well as cast a good light on the Tucson DOT.
Check out the YouTube video. In the event you cannot view the video on this page, here is the link to the video.
Editor's Note: Does this idea inspire you in terms of another hint you can provide? If so, use the link below.
Have an idea that would be helpful to others in the industry? Please let us know what it is.