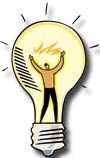 Obtain and Use References from Customers
References are an important part of getting new business. However, there are some techniques that work better than others, as well as some pitfalls to avoid.
From Ranger Kidwell-Ross, editor of WorldSweeper.com:
One of the things many contractors hesitate to do is ask customers to provide a reference on their work. Instead, asking for references needs to become one of the routine requests made of good customers. You will find that offering strong references to prospective customers is one of the best ways to close the deal.
References should be used in print as a handout and made available on your website. You will also want a few customers that prospects can call for a verbal reference. What you do not want to do is put reference quotes onto any brochure that you plan to use over a period of time. Doing so makes the referree an easy target for competitors. If they take over services for someone who is a reference on your brochure, you may find yourself stuck with 1,000 full color brochures you can no longer use...
If you want complete details on how to prepare for getting references and then requesting them, here is an article I wrote on the topic in September of 2009.
Having a strong reference list is one of the best ways to provide confidence to prospects that your company will do a great job for them!
Have an idea that would be helpful to others in the industry? Please let us know what it is.