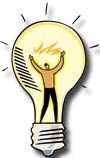 Look More Professional With An Email Signature
If you communicate with others via email, a way to promote your business is to put your 'signature' onto your email.
From Ranger Kidwell-Ross, editor of WorldSweeper.com:
An email signature is text that is automatically attached to the bottom of your email message. Now that you think about it, you've seen this on email you've received from other people, right?
The good news is that your email signature can be used to publicize your business. That's because it can include your name, business name, email address, street or postal address, website address, phone number, fax number, company slogan -- even a description of your company and its products/services. You can even set up different signatures for different purposes.
For example, you might have a different email signature for street sweeping inquiries than the one for parking area sweeping. Or another that's different for related services.
Here's what to do in order to set up your signature using Outlook Express:
Step 1: Select Tools > Options from the menu bar.
Step 2: Click on "Signatures."
Step 3: Make sure you select "Add signatures to all outgoing messages" - within the "Signature settings" section. You can also make a decision about whether you would like your signature to appear in "replies" and "forwards."
Step 4: Click "New" (you can change the name from "Signature #1" by clicking "Rename") - within "Signature" section:
Step 5: Type in the text that you would like to appear at the end of your email messages - in "Edit signature" section. You can even paste in a small company logo from your clipboard, if you'd like.
Step 6: If you're happy with the results, click "Apply" and "OK."
Have an idea that would be helpful to others in the industry? Please let us know what it is.