Reel-In Storage For Water Tank Fill Hose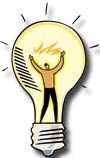 By Joe R. Becker of Becker Industries:

We had a problem with finding a place to store the garden hose that we use to fill our water tank while on the road. We came up with the idea of putting a home garden hose reel on the truck.
What we did is mount it behind the cab on the hydraulic box. This makes a great place to store the hose, and it's also easy to get to when needed. When we want to fill-up, we just unreel the hose and hook it up. Also, since the hose is hooked up directly to the water tank, we only need to make one hook-up each time we fill our tank.
Have an idea that would be helpful to others in the industry? Please let us know what it is.