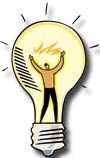 The Multiple Uses of a Hook-Lift Truck in a Sweeping Business
by Kerry Armstrong, of Armstrong Sweeping, Inc.

I have found a hook-lift truck to be a very versatile addition to my sweeping business. Although it's licensed and insured only as a truck, we use it in a variety of ways.

One is as a sanding truck, by putting a sanding box onto the back. Another use is as a flatbed. If we have a sweeper that breaks down and needs to be picked up, we mount the flatbed module onto the back and away we go.

We also have a dump body, so that makes it easy to use it to haul our collected debris to the landfill after we've screened it. We can also use it to haul the screened dirt to wherever we have arranged for it to be dumped, as fill or whatever.

It's the truck we use to haul our roll-off containers, which we need for our street sweeping operation. We bring the roll-offs back to our location and then run the debris through our screener.

If you're a growing contractor, especially if you do side services such as sanding, you might find that a hook-lift truck is one of the most versatile pieces of equipment you can buy.

Click on this link to reach Kerry via email.

Have a comment on this Tip or an idea that would be helpful to others in the industry? Please let us know what it is.