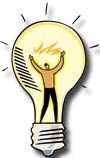 Keep Light Debris Off Debris Screen
by Phil Hicks, of Hicks Lawn Services.

To keep paper, bags and other light debris from sucking to the separator screen on your sweeper is simple. We do this by using a couple of bread trays the bread company puts their product on when they deliver bread to stores.

When you feel you are losing vacuum, or periodically if you know you have swept a lot of paper, just open the hopper and place the bread trays on top of the paper. Although the bread trays are light to carry, they're heavy enough not to float upward during sweeping. They also keep the paper and plastic from floating upward and attaching themselves to the screen.

You'll find this idea will be easy to do and is a way to keep sweeping at maximum vacuum power throughout the route.

[Editor's Note: Be sure to retrieve the bread trays from your load prior to dumping!]

Click on this link to reach Phil via email.

Have a comment on this Tip or an idea that would be helpful to others in the industry? Please let us know what it is.