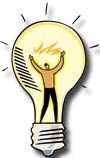 Attend Municipal Street Sweeper Demos
by Karl Stauty, of Commercial Power Sweeping.

We're in the street sweeping business, as well as doing parking area work. As a result, when the local sweeper dealers have a manufacturer's demo unit in our area, they often call to see if they can bring it over so we can take a look.

What I recommend is to find out where else they'll be demoing the machine. Usually, there will be demonstrations scheduled for one or more of the towns in my immediate area. I then arrange to attend one of those, instead.

This is helpful in several ways. For one, the demonstration is typically of a larger scale and can be more thorough, since the dealer would hope for a multiple unit deal.

Secondly, I get a chance to 'schmooz' with the city officials in charge of the sweeping program. I can hand out business cards, and find out the current stance in the area of contractor sweeping.

This can be a way to find out whether or not they might be open to having their sweeping be done by us. After all, the timing could be perfect if they're now in the market for a new sweeper. By hiring us to sweep their streets, they might be able to save all that capital investment!

Click on this link to reach Karl via email.

Have a comment on this Tip or an idea that would be helpful to others in the industry? Please let us know what it is.