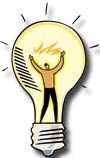 Keep Dust From Circulating
Here is a dust control idea that works great for many sweepers:

Put about 5" to 7" of water in your hopper when running a route where you'll be sweeping mostly dirt and sand. When the dirt comes into the hopper it will hit the water and dissolve into it. This keeps the dirt on the bottom of the hopper, rather than allowing it to circulate.
This does add some additional weight, however, so be certain not to overload your unit.
Have an idea that would be helpful to others in the industry? Please let us know what it is.