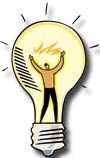 Reduce Intake Screen Clogging
At one time or another, about every sweeping contractor using a vacuum or regenerative sweeper has experienced a clogged intake screen. This is usually due to either plastic and paper bags, or large pieces of newspaper. An excellent way to prevent or greatly minimize such occurrences is to hang 4" to 5" strands of 3/16" chain in the intake screen of the hopper, such that it covers the entire screen 3" to 4" apart.
This creates what we call the "shaker effect." It keeps most paper and plastic bags inside the hopper continually moving in circular motions, which helps keep intake screens free from debris. This can really cut down on how often you'll have to shut down your truck to clean debris from the intake screen.
Have an idea that would be helpful to others in the industry? Please let us know what it is.