Victory Sweepers' President Looks to Renew Industry Leadership
by Ranger Kidwell-Ross
August 2008

Mark Schwarze, Victory Sweepers' founder, has long been one of the most experienced and well respected individuals in the U.S. sweeping industry. In less than two years of being back in the sweeper manufacturing business, he has again revolutionized both parking area sweeper design and how they're backed.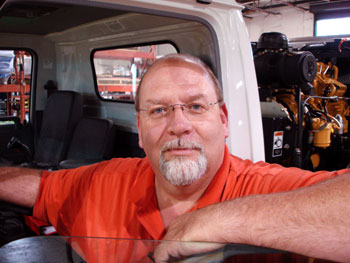 Mark Schwarze's new company, Victory Sweepers, immediately raised the product support bar by offering the industry's first-ever, 60-month limited warranty. That factor, along with his innovative sweeper designs, many patent-pending features and long-standing reputation for superior product support, have created a virtual stampede for the Victory product line.
Here's a brief history of Mark Schwarze's roots in the sweeping industry, why he founded Victory Sweepers, Inc. and, if you listen to my audio interview with him that's linked at the bottom of this article, some hints about what the innovations that Victory has on the horizon.
Mark's dad, Bob Schwarze, founded Schwarze Industries, Inc. in 1974. An early sweeping contractor, Bob's goal was to provide other contractors with a sweeper dedicated to the type of debris they needed to pick up. His own experience was that most, if not all, the sweepers then on the market were designed for sweeping streets, not parking areas. The result is, as they say, history: The Schwarze family played perhaps the leading role in shaping the parking lot sweeping profession into the viable industry it is today.

When he started Schwarze Industries, in addition to making a sweeper dedicated to parking lot cleanup, Bob Schwarze wanted to provide contractors with a type of customer experience that was new to the sweeping industry. For one, he pioneered selling direct to contractors, rather than through a dealer network as was done elsewhere. He felt dealers were unused to responding as quickly as contractors needed, and that use of them created parts prices that were higher than need be. His designs also used 'off-the-shelf' components whenever feasible, so contractors could get parts locally if possible. Finally, Bob implemented a system of rapid delivery on repair parts, overnighting them when needed.
When he founded the company, Bob's son, Mark, was a freshman in high school. Even so, Mark was already an experienced sweeper operator in the family's sweeping business. "My idea of a weekend off," recalls Mark Schwarze ruefully, "was being able to work on our sweeping company's Huntsville route only, which meant I didn't have to also work on our Birmingham route. It didn't happen often."
After graduation, Bob wanted his son to go to college. Mark insisted on working full-time in the family's fledgling sweeper manufacturing company. Whether in reprisal for his son's stubbornness or because of his uncanny business savvy, Bob finally agreed -- to start his son at the bottom and make him earn his way up. After ten years of working most every position in the company, from welding to fab to paint, in 1984 Mark was promoted to vice-president. With his new job came a mandate to find as many ways as possible to help the company's sweeping contractor customers become more successful.
Mark proved himself up to the challenge. Innovative customer-centric programs included early technology 'help videos,' free next-day warranty parts shipment (with free return shipping), the industry's first sweeper loaner program, 'customer roundups,' sweeper rodeos, and the first newsletter for sweeping contractors, The Supervac Quarterly.

(Author's note of disclosure: I was hired to produce The Supervac Quarterly, which I did for its approximately three-year run. When the newsletter had its debut in 1988, it was received with enthusiasm by sweeping contractors throughout America. Then, when I moved back to my home state of Washington in the early '90s and decided to start a magazine about sweeping, Mark and the Schwarze family stepped up to become the overall sponsor of both American Sweeper magazine and its companion website, AmericanSweeper.com.)
This combination was clearly a winner. At one time, Schwarze Industries, Inc. enjoyed about a 60%+ share of the U.S. market for parking lot sweepers. Through design innovation, superior customer service and, in part, the wide respect given to the company's sponsorship of the award-winning American Sweeper projects, throughout the '90s Schwarze Industries, Inc. also became an increasingly big player in the municipal sweeper market.
By this time, Bob Schwarze had retired and Mark had taken the helm as company president. Under his leadership, Schwarze Industries, Inc. became known far and wide for its innovative designs and a level of customer support that was far greater than that of any other industry manufacturer. Unfortunately, Bob became gravely ill in 1999. Due to inheritance considerations, the Schwarze family decided it was time to sell the company. This took place in 2000 to the current owner of Schwarze Industries, Inc., a Texas-based public company called The Alamo Group.
Although Mark stayed on as president for a couple of years, he learned that he wasn't suited to the change of focus and priorities required by a public company. And, not long after Mark's departure, the new Schwarze Industries management, which had gained control of the name AmericanSweeper.com in the sale, discontinued sponsorship of American Sweeper magazine and summarily took the website offline. (Author's Note: As an end result I was forced to abandon the American Sweeper projects in their entirety. However, that situation resulted in the founding of WorldSweeper.com.)
At the end of his non-compete, Mark Schwarze decided to re-enter the sweeper manufacturing business. Today, Mark is back in the industry as founder and president of Madison, Alabama-based Victory Sweepers, Inc., which he incorporated in 2006. Not surprising to those who know him, Mark Schwarze's innovative sweeper features and designs are, once again, taking the industry by storm. In the candid audio interview linked toward the bottom of this page, Mark Schwarze talks in detail how his new company has, once again, revolutionized product innovation and customer service.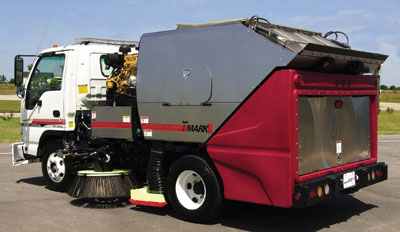 Victory's first product, introduced in 2007, was a twin-engine parking area sweeper dubbed the 'Mark II.' Victory was the first manufacturer in the sweeping industry to offer a five-year product guaranty, which the company calls its 'Solid 60'SM Limited Warranty. Other manufacturers were soon forced to follow suit.
The Mark II also has a number of innovative patent-pending design features, including a split sweeping head, which is built so that most damaged heads can be fixed by just having the damaged half replaced.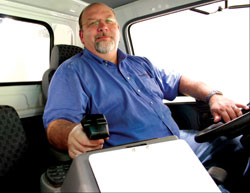 The head's quick-replace flap system is also a time-saver, as is the sweeper's innovative 'Eyes Forward'SM joystick control system you see Mark Schwarze holding onto in the photo to the left.
Other patent-pending features include the machine's 'Slideback Dump'SM, having twin dump and screen access doors, constant chamber size for the sweeping head, and the 'Hoods Up'SM feature that allows the operator to raise the nose of the sweeping head, via a separate cylinder so as to eliminate 'bull-dozing' of debris and can/bottle dragging.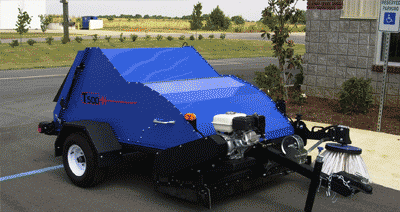 In 2007 Victory began offering its model T-500, which is a tow-behind sweeper powered by a 5.5 hp Honda engine. Mark Schwarze says he made the decision to purchase rights to the machine, previously sold as the 'TowVac,' early on in Victory's existence.
"I was initially very skeptical of what a sweeper like that could do," admitted Schwarze, "and had no interest in purchasing what I thought was essentially a sweeper suited only for startups. I was flat amazed when I saw my first demo, though.
"Once I saw the TowVac perform, I realized it would be ideal for existing contractors who wanted a back-up or route-starting machine. With today's fuel crunch and the flat payment market for sweeping services, a number of large contractors have added T-500s as part of their everyday fleet."
After purchasing the technology, some re-design was done, like adding a bigger axle and tires. A hydraulic curb broom has replaced the former mechanical broom, as well. The body is now powder-coated, in either dark green or dark blue, and a number of other updates have been added.
The Victory T-500 provides eight hours of sweeping on 1.5 gallons of gas (plus whatever is used by the tow vehicle; it's light enough to be towed by a Gator for mall applications). The corded rubber paddles do a fine job on sand and grit, as well as picking up bricks and even 2x4s. At press time cost was $15,500, fob Madison, Alabama.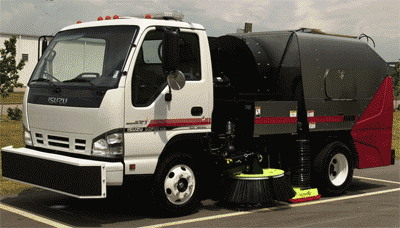 In March of 2008 Victory introduced the Mark I, a single-engine sweeper mounted on a cabover chassis.

"Although we had the design and prototypes ready in late 2007," recalls Mark Schwarze, "we ran into a restriction on our ability to purchase the pump we needed. That took almost a year to resolve and cost Victory thousands of dollars. Now we're finally on course to receive a steady supply of the pumps.

"'One pass saves gas' has become our motto for the Mark I. Depending upon where you're sweeping, there are times you really need performance that prior single-engine sweepers just haven't provided. I encourage any contractor, anywhere in the country, to demo a Mark I. My belief is they'll be amazed at what can be done with a single engine Mark I.

"Some of the manufacturers have re-engineered their single-engine sweepers from the ground up, so most of the parts don't interchange. With the Victory Mark I and Mark II, 99% of the parts, outside of the engine and the hydraulics, are interchangeable."

All in all, it's easy to see why it appears that Victory Sweepers is fast becoming the parking area sweeper line of choice in the American marketplace. With almost 35 years of manufacturing experience, and his beginnings working as a sweeping contractor, it's no wonder that Mark Schwarze knows how to make a contractor feel like part of the family.

Plus, he has a secret weapon: A central part of the Victory Team is Mark's mom, Peggy, who answers the central switchboard most every day. Although into her '70s, Peggy is there bright and early every day, and is called 'Mom' by one and all. "She played a central role in the founding of Schwarze Industries, Inc. back in 1974, and today she's truly the heart of Victory Sweepers," said Mark Schwarze. "It's wonderful she has chosen to be a part of the new company."

I have fielded a number of inquiries from contractors -- even experienced ones -- who have contacted me to find out about "the people behind Victory Sweepers." They are invariably excited to hear the Schwarze family is, once again, making sweepers. Now, with this interview completed, I also have a web location to send them to for info!

It's great to have the Schwarze family once again involved in the contract sweeping industry. The many innovative features offered by the Victory product line, to say nothing of the Schwarze family's legendary commitment to unmatched product support, appears to have clearly put some of the other parking lot sweeper manufacturers behind the curve.

This coverage includes a 22-minute audio interview with Mark Schwarze. If you hear the interview at 'chipmunk speed,' you will need to download the latest version of Adobe's free Flash player.

To play the interview, click this link or on the small triangle inside the circle you see to the left. If you have any trouble accessing this audio, please let us know.

For more information on Victory Sweepers' product line, you can take a look at the company's website at www.victorysweepers.com. You may reach Mark Schwarze via email sent to: info@victorysweepers.com. Victory's toll free contact phone number is 1-866-507-9337.