Model Builder's Miniature Austin Western Sweeper Astonishingly Detailed
by Ranger Kidwell-Ross
Model builder, Danny Downs, has made a number of extremely small models in the last four decades. His latest, of a vintage Austin Western sweeper, is one of his finest.

Danny Downs has been building models over 40 years. He started with plastic kits that included cars, trucks, planes and ships. Most, however, have been cars and trucks.
By the time Downs was in high school, he decided he wanted something with more of a challenge. He had been accessorizing his plastic models with accents of brass and copper, so decided to start building models from scratch out of those two materials. You can see several of these in the slideshow below.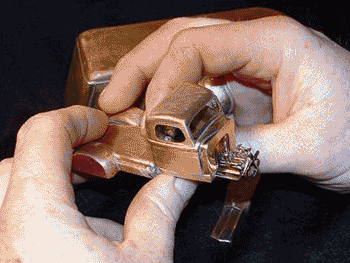 When deciding on a model, Downs says he likes to build something unique that nobody has built before. Beforehand, he tries to get as much information on the machine as possible. This includes getting any pictures, shop manuals and operators manuals for the item. Sometimes, he says, he starts with plenty of information and sometimes there's very little.
Downs said he has never actually seen one of the Austin Western Model 50 street sweepers that is the focus of this article. All he had to start the project was an operator's manual and a shop manual, which contained a total of just three different photos, only one of which had the rear body cover on the machine. Fortunately, the manual also contained the tire diameter, which helped immensely when it came to making a scale drawing.
Sometimes, he says, there are times when making a drawing that he just has to make an educated guess as to how big a certain part is. As a result, the model of the Austin Western street sweeper -- although uncannily accurate -- is his interpretation of what the machine looked like. The finished product was completed based on the information he had available at the time of building.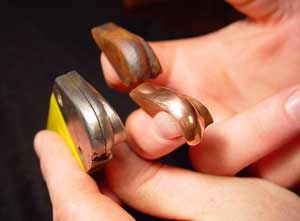 "A nice thing about doing models in metal is that I can either leave them the natural color of the metal," said Downs, "or paint them however I would like. When I saw the picture of the sweeper for the first time, I decided I wanted to finish my model in the natural metal colors, in this case the two-tone colors of brass and copper. Because I wanted the top of the rear body cover to be copper, and its lower panel to be brass, I had to make a two-piece buck.
"For those unfamiliar with the term, a "buck" is a shape made to form the copper or brass into particular body components, in this case the rear body cover and fenders. I like to make my bucks out of steel because its more durable than wood. A different buck has to be made for each body panel, such as right and left fenders etc. These are the exact shape needed, since the body component is formed to that exacting shape."
On this particular model, unlike some others he's done, Downs only did the external details, not the internal parts. The process was, after completing his drawing, that he started first on the chassis. The first step was cutting and shaping metal pieces to form the basic structure of the sweeper's frame. Then, he turned the wheels and tires on a metal lathe, and then attached them to the chassis to get the partially completed model "up on all fours."
---
An animated slideshow of the model over time.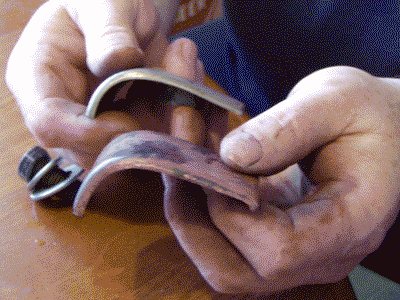 ---
If you enjoyed this article and would like to know more about Danny Downs and the models he makes, we suggest you will also enjoy WorldSweeper.com's article we did when Downs built a scale model of an Austin Western Model 40 sweeper.
You may reach Danny Downs via email sent to brassmodels@gmail.com.
We're always on the lookout for more sweeper-oriented information we can add to the website, so keep us in mind if you find interesting information about sweeping.