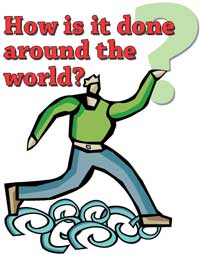 Ranger Kidwell-Ross, our webmaster and Editor of WorldSweeper.com, in 2001-2004 completed intrepid trips to Asia, Australia, and Europe to bring us news of how pavement sweeping is done in some of the countries around the world. The Asia portion of this travelogue won an APEX Award of Excellence in Online Journalism for 2002, while the European travelogue won an Apex Grand Award for 2004.
Table of Contents
The Street Sweeping Program of the City of Copenhagen, Denmark
The city of Copenhagen employs nearly 200 workers to clean its 374 kilometers of public roadways (approximately 233 miles), and its 704 km of sidewalks and 291 km of sidewalks. An additonal 352 km of private roads are maintained by their owners or independent contractors. Hako and Schmidt manufacture most of the city's 25 sweepers, all of which are smaller than a typical American parking lot sweeper. Read the story.