Construction Sweeping Can Offer Higher Margins, Company Growth -- Big Losses
This market niche can be a key to expansion into heavier-duty sweeping, but it's not for the uneducated or unprepared.
by Ranger Kidwell-Ross and Mark Carter

With parking area sweeping becoming an increasingly competitive market for contract sweeping companies, many have discovered they must diversify or move into a niche market if they wish to continue to grow. One such market that is typically not as competitive -- and which is growing due to environmental regulations -- is construction sweeping.

Compared to parking lot sweeping contractors, the number of companies that offer quick response and heavy-duty sweeping for the construction industry is relatively small. Especially if you already have one or more sweepers that can handle this type of sweeping, it is well worth considering this market for sweeping services.

In order to succeed, you'll first need to have sweepers that can handle the job. You'll usually need two such machines, since construction sweeping often needs to be done within the hour of receiving a phone call for services. Most construction sweeping calls for a mechanical broom sweeper to do the job, however some lighter work can be handled by the larger power air machines.

A problem with air machines can be the dust they can put up, and fugitive dust has become an emerging issue. On the other hand, air machines tend to get more of the finer material if the debris isn't so packed-down as to make them ineffective. Although some construction work may be done by top end parking lot sweepers, contractors will tell you that to really be in the business requires mechanical broom sweepers in your fleet.

There is little standardization about sweeping frequencies with construction, although residential sites are usually swept less often than major construction sites where dirt is being tracked onto arterial streets. The fact is, construction sweeping can run from one sweep during the life of the project, up to six days a week every week. A relatively high percentage of your calls will come from customers when they reach critical junctures of a construction project, or when required by the local permitting or other agency.

As a result, you can't afford to leave a customer hanging because your one heavy-duty sweeper is already in use, broken or being serviced. Especially in instances where an inspector has stopped by and required a sweep to be done, most of the workers on the jobsite may be idled until the sweep is performed. In other instances, for environmental reasons, sweeping may have to take place before inclement weather arrives.

One of the downsides to construction sweeping is the 'on-call' aspect of the service. The good news is that for precisely the same reason it has a higher profit margin than routine, contracted parking lot sweeping. And, many sweeping contractors have a three or four hour minimum per sweep, even though some cleanup jobs may be a little as half an hour. Often, however, anything less than 2 hours and the customer will do the cleanup with laborers.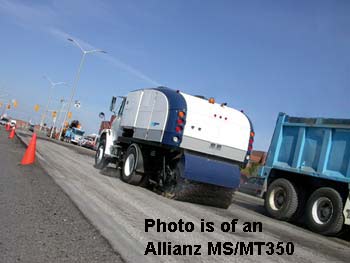 Another advantage to construction sweeping is that a portion of it is typically done in the daytime, so you can have better utilization of your personnel and offices. As long as you have personnel available to operate them, with heavy-duty sweepers in your fleet you can be on-call for construction work at any time throughout the day. This helps spread out the usage of your sweepers, and utilizes them during an otherwise zero-dollar time period.
The daytime "disadvantage" to construction sweeping is that everyone is watching. Good results are needed, but it is just as important "how" you do the work. The night customer will never know or care how fast you sweep, but the daytime customer does. Create dust at night, and there's typically no problem. Create dust during the day and the job could get shut down, an environmental agency could issue a fine, a car could drive into the dust cloud and hit the sweeper, and the list goes on.
Yet another reason construction sweeping is more expensive is that it's harder on your equipment than parking area work. Typical wear items like curb brooms, hoses, flaps and fan system will need replaced more often. They also need to be in top working order to handle the demanding work. Just the sheer volume of abrasive debris moving in the sweeper increases wear.
You'll have to experiment to discover what levels of construction cleanup your particular sweepers can -- and can't -- handle. As of early 2006, when this article was written, there are still no single-engine parking area machines that can do this type of work. Even with twin-engine sweepers, you need to be toward the top of the power curve in order to consider construction cleanup.
Often, the mud-caked areas where trucks have been tracking out onto a roadway, or other packed-down or deep debris situations, can even require a broom sweeper. Sometimes, if the debris is packed down even the largest broom sweepers won't touch it. You can chip it with a shovel and it won't budge. In other areas a better sweep may result from use of a street-type air sweeper.
Unless you're starting out with inside knowledge and contacts in the construction industry, getting construction clients is a building process that can take months or years. Even when you've built up a client base, the work can still be irregular and, often, seasonally-based. As with parking area work, the most regular types of construction customers will also have the lowest profit margin for this type of sweeping, a normal business trade-off for the security of steady work for long-term customers.
Today's increasingly stringent environmental laws, and associated penalties, have made compliance a no-nonsense issue that can carry stiff fines. That's why, with this type of sweeping, it is important to be readily available and do a superb job of sweeping, each and every time. A good analogy for construction sweeping, unlike routine parking area sweeping, is that it must be done like mowing a lawn -- any missed areas spots will really be noticed. Construction firm managers will call someone else if they discover they can't count on your company or the excellent results you offer.
For that reason, you'll want to have a seasoned sweeper operator on any construction work. Because of the importance of the final results, you want someone on your sweeper who can achieve those results under demanding conditions, as well as recognize when the job is actually done well enough to leave the site.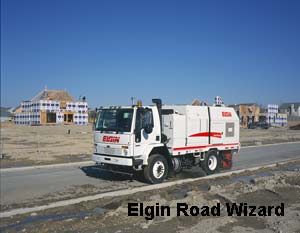 Typically, CDL drivers are needed for construction-level sweeping. This type of work also requires drivers who can "think." The job changes hour-to-hour, and they go to most jobs they have never seen. The operator must first evaluate the job, the conditions and the sweeper they're in, among other items, and then determine how to do it correctly and safely. This all takes place without the owner ever seeing the job and with the client and all his employees watching. Daytime operators must also converse with the customer and look professional, unlike night-time sweeper operators, who can look like Charles Manson and be anti-social and yet no one ever knows the difference.
Worst-case scenario is that your customer has an agency-mandated sweep, your firm comes in and does a cleanup, followed by the agency inspector coming back and giving the client a ticket. Word of violations moves quickly around construction client circles. Over time, you'll probably want to develop relationships with agency inspectors in your area, as well, to make sure you know the level of results they're after. That way, there should be no surprises later on.
In some areas, especially with mud-tracking onto nearby highways in upscale areas, you may also need to get all traces of the dirt off the road, not just have it swept up. In those instances, some customers will want you to use a water truck to wash off the roadway after sweeping. As one contractor I spoke to while doing background for this article remarked, "The people driving by in their Cadillacs want to see a black roadway, not one that's tracked up with mud streaks that detracts from their residential area and may put mud spatters onto their cars."
However, use of water trucks to wash streets is now illegal in most if not all states. Today, storm water regulations carry huge fines for letting any water into a storm drain. Before you comply with this kind of request, be sure you find out your local and state ordinances in this regard.
Once you pick the material up, be careful where you dump it. For example, when you're sweeping up material from sand blasting, done when they remove the stripes on the road, your load can contain hazardouz material. Make sure the customer maintains possession (in the contract) and provides a legal disposal site.
Keep in mind that safety equipment for day work is a different standard than for night sweeping. Flashing lights, flags, and slow-moving-vehicle triangles are a necessity. Make sure you have what you need for any situation that might come up, and/or that is required by statute in that location.
Where you get water can land you in jail. Taking water from a hydrant without permission or a meter is stealing. One contractor made the news on a 60 Minutes-type show for taking water improperly. Many contractors will not want to be bothered getting you a legal place to get water. They will expect you to "handle it" or steal it. DonŐt. The construction job you're there to sweep ends when the project is built. You'll want to keep working in that area for a much longer time. Get your water legally and charge for it as the cost it represents to you in both time and resource cost.
How you take the water also matters. Use a pipe wrench and you could be replacing the entire hydrant. Eddie valves or anti-surge valves are needed, as well as a proper hydrant wrench. Take a look at our tip on that topic in our Sweeping Tips section.
Be sure you pay attention to prevailing wage issues, sometimes known as wage paymenets under the Davis Bacon Act. If you work at a school or other public project that receives federal or state funds, you most likely will have to pay what is called the "prevailing wage rate." This is defined by code and may be over $50 per hour just for payment to the sweeper operator. Make sure you know whether or not a prevailing wage is required and how it works before giving a price on any job that involves government funds.
More due diligence is needed if you'll be granting credit for construction sweeping. Many customers will want to pay you when they get paid on the job. If that is acceptable to you, make sure you price an additional amount to cover the fact that you may not see your money for 120 days or more. Be aware of and "pay if paid" clauses. Unfortunately, a good rule of thumb is that the bigger the customer company is, the harder it can be to get them to pay. Finally, ayou'll want to get familiar with when and how to file Preliminary Leins.
Insurance requirements can be hefty in construction sweeping, as well. In most places, a minimum of $2 million is the norm, and $5 million is getting more common. Some states, California, for example, require that you have a Contractors License in order to sweep construction sites. Be sure you know any and all licenses that are necessary for sweeping in your area, and be cautious when you move to other counties, air quality jurisdictions, etc.
Though you'll likely run into requrest, don't let the customer convince you to sweep without dust control. The fines for fugitive dust are huge, and dust creates other potential health and safety problems as well. For example, OSHA could get involved for subjecting your employee to unhealthful conditions. Workers compensation claims for silicosis are real and can be devastating to your business and your employees' health.
Because those in the construction industry tend to work with and know each other, you should emphasize getting references and referrals from satisfied customers in this area of your business. If you're doing a good job for someone, be sure to ask them to tell their friends and associates in the business. You'll probably want to join your local area builders' associations, since you'll make valuable networking contacts at the meetings. This may also qualify you for a link to your company's website on the association's website.
Construction sweeping is an area of the industry where it takes awhile to build a business and where it's extremely important to know what type of situations your sweeper can and can't handle. On the other hand, the margins are higher and you can achieve a more round-the-clock utilization of your high-end parking area sweepers. However, perhaps more than with any other type of sweeping, you have to make sure that you under-promise and over-deliver each and every time, never the other way around.

Mark Carter heads up Orange California-based Bill's Sweeping, Inc., which was the first sweeping company in California to gain Certified Sweeping Company status from the North American Power Sweeping Association (naPSa). Mark is also a past president of naPSa. You may reach him via email sent to mnc@streetsweeper.com. Click on the logo to go to the Bill's Sweeping website.
Ranger Kidwell-Ross is editor of WorldSweeper.com. You may reach him via email sent to editor@worldsweeper.com.