Welcome to WorldSweeper.com!
by Ranger Kidwell-Ross, editor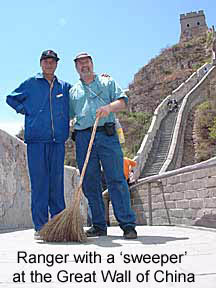 As the founder and long-time editor of Schwarze Industries' former American Sweeper magazine and website, I'm excited about now introducing a new source for power sweeping information here at WorldSweeper.com.

Although we're just getting started, we have the majority of the stories from AmericanSweeper.com. Plus, as you previous users of that site will discover, at WorldSweeper.com there's a whole lot more.
The WorldSweeper.com support team will do what it takes to become the unquestioned leader in providing nonpartisan news and information to the power sweeping industry. We also intend this site to become the leading showcase for all of the products and services of the industry. Our long-term goals are to promote industry interests to governmental and other regulatory agencies, thus improving the overall foundation of the sweeping industry in general.
The WorldSweeper.com website already contains hundreds of stories, tips and ideas, and we will be adding to this collection on an ongoing basis. In keeping with the World Sweeper name, and as a result of contacts gained during my sweeping-related travels in Europe and Asia, the website also includes articles and information about sweeping throughout the world. Look for more of these in the months to come.
Everyone in sweeping is invited to become a part of this venture. Please sign up to our Guestbook if you'd like to receive emails containing the latest in sweeping stories and information. If you have sweeping tips, stories or other ideas we should know about, be sure to let us know.
If you're a vendor to sweeping, please support this effort through your banner advertising, as well as by listing your company in our 'Browse Sweeping Products' section. Likewise, if you operate a sweeping company you'll want to make sure your company is listed in our 'Contractor Locator' section.
My hope is that you contractors will also let our advertisers know how much you appreciate their participation. Through all of us working together, we have an opportunity to advance the world of power sweeping to a level it has never before attained.
Good Sweeping,