Tip #1 Reduce Intake Screen Clogging.
Tip #2 Solve Flat Tire Woes With Commercial Sealant.
Tip #3 Use Lighter Tire Flaps in Winter.
Tip #4 Clean Auxiliary Air Filters With Care.
Tip #5 Sweep Up Fines Easily.
Tip #6 Keep Dust From Circulating.
Tip #7 Swap Sweeping for Services.
Tip #8 Save Time, Make More Money With Weed Killer.
Tip #9 Maintain Ongoing Client Contact.
Tip #10 Help Clients Avoid Litigation.
Tip #11 Reel-In Storage For Water Tank Fill Hose.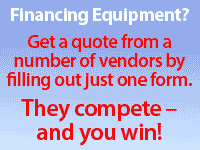 Tip #12 Eliminate Cold Weather Cable Freeze-ups.
Tip #13 Keep Hopper Doors Working Freely.
Tip #14 Lubricate Hopper Walls for Slick Dumping.
Tip #15 Stop Sandblasting Your Hopper Interior.
Tip #16 Sell Your Company Through Appearances.
Tip #17 Use Special Fuel Pump On Some Auxiliaries.
Tip #18 Install Second Muffler For Quieter Sweeping?
Tip #19 Keep Communicating To Keep Contracts.
Tip #20 Warm Up Hydraulics In Cold Weather.
Tip #21 Carry Tools Conveniently.
Tip #22 Straighten Bent Heads The Easy Way.
Tip #23 Use Mall Plot Plans To Your Advantage.
Tip #24 Take Your Excise Tax Rebate!
Tip #25 Leave Bids and Contracts Open Ended.
Tip #26 Build Client Base Through Referrals.
Tip #27 Keep Hopper Lip Looking Nice.
Tip #28 Easy Tire Changing For Outside Duals.
Tip #29 Give Complimentary Dust Certificates.
Tip #30 Extend V-Belt Life On Older Supervacs.
Tip #31 Always Think Safety!
Tip #32 Gauge Shows Water Level.
Tip #33 Low Cost Fix For Broken Hoses.
Tip #34 Remove Packed Hopper Debris With Vibrator.
Tip #35 Can't Sweep It? - Make It A Profit Center!
Tip #36 For Safety: Hand Crush Large Boxes.
Tip #37 Space Reserved For Your Hint.
Tip #38 Keep Newly Surfaced Lots Mark Free.
Tip #39 Extend Hopper Life.
Tip #40 Guard Against Injuries.
Tip #41 Work Closely With Police.
Tip #42 Stop Slips With Rubber Mats.
Tip #43 Secure Your Drag Bar.
Tip #44 Stop Panel Legends From Wearing Out.
Tip #45 Clean Hopper Screen With A Blowtorch.



Tip #46 Get Trash Out Of Crevices.
Tip #47 Start Your Frigid Auxiliary.
Tip #48 Lengthen Air Filter Life.
Tip #49 Reduce Downtime With Local Parts.
Tip #50 Keep Light Litter From Clogging Screen.
Tip #51 Light Up Your Tool Storage Area.
Tip #52 Clean Up Leaves The Easy Way.
Tip #53 A Bulletproof Solution For Sweeper Seat Wear.
Tip #54 'Pencil In' Time for Routine Sweeping Head Adjustments.
Tip #55 Keep Your Air Sweeper Seals in Top Shape.
Tip #56 Portable Gasoline Container Safety Alert.
Tip #57 Recycle Old Main Broom Segments Into Side Strip Brooms.
Tip #58 Ensuring Consistent Battery Voltage on Older Sweepers.
Tips 59-85 Mark Schwarze Offers 27 Ways to Improve Your Sweeping Business.
Tip #86 Sell Your Sweeper Hopper as Billboard Space.
Tip #87 Produce a Company Newsletter for Your Employees.
Tip #88 Make Sure Your Starter Bendix Disengages in Dusty, Noisy Environments.
Tip #89 Push Bumper and Hideaway Strobes Minimize Potential for Accident and Damage if One Occurs.
Tip #90 Tree Limbers On Board?
Tip #91 Good Backpack Blower Technique can Reduce Time, Money and Accidents.
Tip #92 Ensuring Consistent Battery Voltage on Older Sweepers.
Tip #93 Alert for Use of Diesel Fuel Run Solenoids.
Tip #94 Use Marine Grease for Sweeper Bearings.
Tip #95 Dealing With Claims of Windshield Damage Due to Rocks Thrown by Sweepers.
Tip #96 When it Comes to Safety Protection, All Earplugs are Not the Same.
Tip #97 Weed Out Time Wasters and Save $$ When Drug Testing New Employees.
Tip #98 Bonus Programs Can Help Retain and Improve Employees.
Tip #99 Correct Way to Connect and Disconnect a Sweeper Water Meter
Tip #100 Street Sweeping Contractors Should Attend Their Sweeper Demos at Cities
Tip #101 Keep Light Debris Off Debris Screen
Tips #102 - 106 The parking lot sweeper focus group at NPE 2006 came up with at least 5 great sweeping-related tips. These included:
replacement of lightweight bumpers,
interior floor mat and seat cover ideas,
blower usage and storage ideas,
trash bag storage racks,
alternatives to barlight beacons,
ways to keep wiring and hydraulic hoses from wearing,
a slick idea that allows drag shoe adjustment not to impact the flap adjustment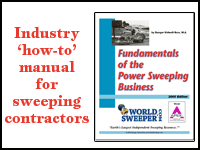 Tip #107 A Hook-Lift Truck Can be a Versatile Sweeping Company Addition
Tip #108 Offer Your Customers a Cleaner, Sweet-Smelling Curb Line or Pavement
Tip #109 Keeping Tabs on Your Sweeper Operators
Tip #110 Look More Professional With An Email Signature
Tip #111 Use Your Cell Phone to Keep Track of Customers' Needs
Tip #112 Tip for Hard Starting Sweeper Engine(s)
Tip #113 Get and Use References from Customers
Tip #114 Send Customers a "We're Here For You" Email Prior to Holidays or Bad Weather Forecast
Tip #115 Find Ways to Involve Your Customers in Non-Business Events and Activities
Tip #116 Use the 'Billboard Area' on Your Sweepers!
Tip #117 Provide Holiday and Weather-Related Safety Alerts for Your Operators
Tip #118 Weld on Worn Bolts to Skid Shoe Mounts
Tip #119 Remove Graffiti and Paint From Hard Surfaces
Tip #120 Put Conspicuity Tape and ID on Backpack Blowers
Tip #121 Employee Mix When Safety is a Concern
Tip #122 Reduce Brake Wear on Mechanical Broom Sweepers
Tip #123 Reducing Risk of Sweeper Fires
Tip #124 Schedule Sweeping Days Different From Garbage/Recycling Pickup
Tip #125 Negotiate With Local Suppliers
Tip #126 Provide Spiff to Employees for New Customers Brought In
Tip #127 See Ray Confer's Special Brand of Customer Service
Tip #128 Ray Confer Also Discusses the Value of Weekly Drivers' Bonuses
Tip #129 Paint Pickup Head Yellow or Similar
Tip #130 Let Your Sweeper Operators Rate Each Other
Tip #131 Personalize Your Sweepers To Your Operators
Tip #132 You Break It: Watch/Help Get It Fixed
Tip #133 Reward Desired Behavior With Incentives That Employees Want to Receive
Tip #134 Spotlight Your Employees
Tip #135 Provide Hats With Lights Built In