Honoring Tom Ostuni, One of the Sweeping Industry's Finest
by Shelley M. Ross

Meet Tom Ostuni, a man who looked at an industry in its infancy and saw its potential, who took a single sweeper and a single account and turned it into a full-scale success. By following a few simple but golden standards of doing business and then backing them up with good old-fashioned hard work he took that single sweeper and grew a corporation which, at its largest, encompassed parking lot sweeping, construction industry sweeping, and milling.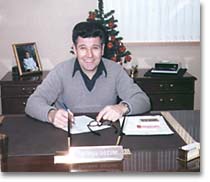 Tom Ostuni of Mohawk Sweeping, circa 1987
Tom Ostuni, the longtime owner of New York-based Mohawk Sweeping and winner of the American Sweeper Award of Excellence in Sweeping, bought his first sweeping company account in 1966. Prior to that he had done a stint in the Army, a stint on the police force, and was working full-time on a garbage truck. He was making a living, but the desire to own his own business was always with him, so basic that he "just knew without really knowing," as he puts it.
Ostuni looked into buying an existing concern, but felt that it was beyond his means. Instead, he decided to start his own company. Then, he learned of a man in the garbage business who also had a Wayne 3-wheel sweeper and one sweeping account he serviced three times a week for $316 a month. Ostuni struck a deal with the fellow for an $1800 down payment and billings for the next 16 months. His mother gave him the down payment, all she had, which sadly was a legacy from his brother's untimely death.
Ostuni's life thereafter became that highway of hard work that the successfully self-employed know so well. He would rise at 3 am to drive an hour to the sweeping account, do the work, drive home and get on the garbage truck to work a full shift. As he added more accounts, they were added to his early morning, then after the regular job he would do patching jobs or striping or more sweeping if he had it. As business increased, Tom's wife, Jenny, handled the bookkeeping duties.
Bit by bit he developed a full route and was able to hire a man to work it. Ostuni immediately began building a second route, hiring a second driver, and then heading out to get more accounts. "We ended up building a substantial business of sweeping shopping centers and parking lots," he proudly declares. At one point he had 15 sweepers, running eight or nine of them every night. At this time, his company was called Meadowbrook Sweeping.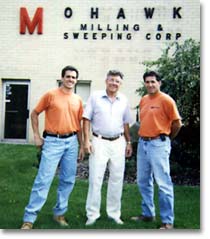 Today, with Tom retired, his two sons, Charlie and John, co-run Mohawk Sweeping.
Still, Tom Ostuni was not a man to stand still. Other aspects of the business attracted him, and in the early 1980s he entered the construction sweeping arena via purchasing a seven-sweeper concern called Mohawk Sweeping. Next he got into milling, and the construction work and the milling became so successful that he and his sons, Charlie and Johnny, decided to sell the parking lot business, which remains successful under the Meadowbrook name. Today, with Tom retired, the two sons, Charlie and John, co-run Mohawk Sweeping.
Ostuni was one of the first to become involved in the development of an association for sweeping contractors, what today is known as Contract Sweepers Institute. He speaks fondly of those early days and what the Association has meant to him. "When we'd go to the shows, I'd gather in the hotel lounges with the other contractors in the sweeping industry, and we'd be there until three or four o'clock in the morning, talking sweeping and equipment, commiserating on some of the sweepers' shortcomings and proposing improvements. There could be no better friendships than the ones that were developed there."
He smilingly recalled a lunch visit he had in the late 1960s with Bernard Young, maker of Tymco sweepers. Ostuni, being a no-nonsense guy, said he wasn't afraid to speak plainly to the man. "The gutter brooms on his early sweepers were turned by a bicycle chain on a tiny hydraulic motor," said Ostuni, "and I told Mr. Young in so many words that the thing was a tinker toy. Another guy in the room with us, Dick Hewitt, was trying to shush me and saying 'you don't talk to Mr. Young like that.' But Mr. Young said, 'That's all right. Let the boy talk. Besides, I like listening to his Yankee accent.'"
One of his most memorable jobs involved sweeping an empty concrete reservoir. The sweeper had to be lowered into the reservoir with a crane, along with containers for the refuse. The sweeper would do its work, off-load into the containers, and then the containers were lifted out by the crane.
Ostuni's pioneering in the sweeping field at one point brought a slightly less enjoyable honor in the form of an IRS audit in the early 1970s. Understandably curious, Tom asked the agent if he could tell him exactly why his company was selected for an audit. It turned out that the bureau had noticed this was a new, growing area of business, so they were using Tom simply as a benchmark to gather data and background for their own benefit.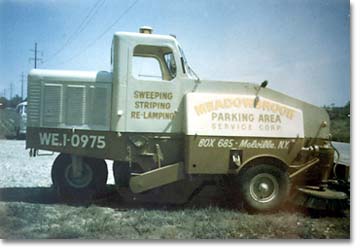 One of Tom Ostuni's early sweepers when his company was still called Meadowbrook Sweeping.
Tom Ostuni has been a mainstay of the sweeping association from its early days, including service as its president. In fact, until recently he had never missed a meeting, except for the initial organizational meeting, and for that he had an excellent reason. He'd had open-heart surgery the year before, and a three-day follow-up exam had been long scheduled at Duke University. Only something that big could have kept him away.
Serving as president also led to a post on the board of directors of the National Solid Waste Management Association. His long and dedicated tenure on the NSWMA board earned him their Distinguished Service Award.
Tom's philosophy of business is distilled into three simple golden principles: 1) Charge a fair price. "You have to make a profit, but if you gouge it will always come back on you later." 2) Keep your word. "Do what you say you're going to do, whatever it takes." Ostuni said he frequently hears about, and has experienced, individuals who say they will consult for a job or do some work but never show up. 3) Be a nice person. "Be, honorable. Be decent. People will want to know and do business with you."
Tom and his wife of 40 years, Jenny, are now retired and split their time between homes in Connecticut in the summer and Florida in the winter.
Reputation is everything for Tom Ostuni. Throughout the industry, this man is known as that most valuable quantity, an honest man, a truthful man, someone who would offer advice and a hand to all. We are proud to acknowledge his many contributions to the sweeping industry by awarding Tom Ostuni the American Sweeper Award of Excellence in Sweeping.
---
Shelley Ross is a freelance writer who recently moved from her home state of Missouri to become a resident of the Pacific Northwest.
This article is reprinted from American Sweeper magazine, Volume 8 Number 1, 2000.